IT Update
4th Quarter 2015 Issue
A Message from the CTO:
IT continues to work diligently to maintain a seamless infrastructure for all of Troy's needs. We hope you enjoy reading the IT Update.
During the winter break, a flurry of IT activity occurred. During the period, IT staff work a total of 1017 hours to upgrade core infrastructure.
In the past six months, much has changed. New identity management infrastructure, new collaborative systems, new email product, updated desktop productivity software highlight the list of major efforts.
The importance of training cannot be underestimated. Technology changes, quickly. In order to take advantage of software, hardware solutions, users must be adequately trained. In 2015, IT held 210 unique training sessions and during the IT Summit an additional 76 sessions were offered. We anticipate 2016 to be another fast-paced year. In order to take full-advantage of enhancements, to gain efficiencies through technology, users need to be trained properly. Please visit the IT web presence to view upcoming training sessions.
The new email/collaboration environment is a major improvement. Over 90,000 end user accounts have been migrated to the new solution. The unified communications experience is incomparable. Massive storage, endless interactivity options will foster a leaner, vibrant experience for all users, despite the device or operating system type.
IT Security is a constant effort; the media reminds us daily of the severe consequences of poor security practices and the frailty of our connected world. Higher Education continues to be one of the most heavily-attacked sectors in the world. As threats evolve, so do regulatory mandates. In late 2015, a Presidential Executive Order extended a number of legislative acts to include higher education. As a result, IT has begun a revamping of compliance efforts. In the coming months, we will announce changes affected by improvement of our security practices. For employees, in particular, scheduled password resets, encryption of additional classes of data and mandatory annual security awareness training are emphasized within the new regulatory framework.
As you review the IT Update, take special note of the My Troy Portal and associated mobile app. The new features and streamlining of interactions are vast improvements. We appreciate the students and employees who participated in the focus groups; your efforts assisted greatly in the forging of exciting new technology for TROY. Where's the portal? http://my.troy.edu, read more about it below.
The IT innovation lab is an exciting collaboration with Troy Libraries. The ability to test drive new technologies, explore emerging educational technologies will debut soon. Read more below.
Soon, an exciting new opportunity will be exhibited at http://insight.troy.edu More details soon!
New technologies emerge constantly; contact IT if you need assistance in reviewing devices and/or software before purchasing.
As always, continue to practice safe computing habits: do not share login credentials or personal data via email, do not leave applications running on an unattended PC.
Check out the latest issues of SANS OUCH! Newsletter. They are especially interesting for those who have tablets and experience phishing attempts regularly.
December 2015 SANS OUCH! Newsletter
January 2016 SANS OUCH! Newsletter
Thanks,
W. Greg Price
---
University Wide News
Networking
Troy Campus
IT has rolled out enhanced Wi-Fi to the latest technology 802.11AC. All areas that have wireless coverage have now been converted to the newer technology and additional areas of coverage were added for heavy usage events. More areas are being evaluated for wireless coverage at this time, including outdoor areas around campus.
Riverfront Building Construction Completed
Construction was completed on the Phenix City Campus Riverfront Building in July 2015. The Networking Division completed the installation of wired and wireless network equipment assisted the Telecom Division with the installation of telephony equipment through July, in preparation for the first classes to be held in August. The equipment installed includes 624 wired network ports and 33 wireless access points, and redundant core network switches.
Wireless Network and Telephony Upgrades
The construction of the Riverfront Building in Phenix City afforded the opportunity for upgrades of wireless network equipment at Phenix City's existing location, and enabled the installation and consolidation of telephony gear into the Troy Campus telecom infrastructure.
Systems
New Relay Server
A new relay server was setup and configured.
Single Sign On
In an effort to consolidate system logons, the following systems have been configured to authenticate to Active Directory (AD): EchoSign, Blackboard, LMS, Portal, Campus Labs, and EZProxy
Portal ILP
Two new servers were setup and configured for Portal ILP. ILP allows the integration of web parts and mobile solutions with Portal.
NAS Migrations
Migrated all user shares from Global campus NAS devices back to the Troy Datacenter.
PDQDeploy
Five new servers were setup and configured for PDQDeploy. PDQDeploy allows software applications and patches to be pushed to user's workstations.
DNS Server
A new DNS server was setup and configured to handle DNS requests on the internal network.
Backup Server A new server was installed and configured to perform backups on the private network.
WebUI
Upgraded and migrated the WebUI software to new server hardware. WebUI is the user interface for the University's ERP system
Technical Services and eSystems
EchoSign Workflow Development
As of December 2015, Troy University has twenty-one forms deployed through EchoSign. Fourteen of these forms are currently utilizing custom developed automated workflows. There are currently four forms in the development process and fifteen forms in the review process. Since May 1, 2015, 17,271 forms have been processed through EchoSign.
Active Directory Migrations
Active Directory Migrations continued through August 2015 to insure that all University owned computers were migrated.
Digital Display
New digital displays have been implemented in the new Phenix City Riverfront Building.
Digital displays have been installed throughout the New Dorm on the Troy Campus.
Conference Room Upgrades
The Patterson Hall Conference Room has been upgraded with new technology in order to make the room more efficient.
Email Migrations
IT began migrations of all Students, Faculty, and Staff from our old email system to Microsoft Office 365. This new email system offers better stability along with increased functionality. Of the groups that have been visited, eight-five percent of all the migrations have been completed.
Epson Contract
Technical Services worked with Epson Account Manager for Troy, regarding a NoCC No Credit Card Exchange Agreement contract. This is a free service and allows Troy University to establish a service account with Epson without having to use a credit card or having to ship the damaged unit in first. Once a call is placed with support using the Epson account number, a replacement product will shipped that day to replace the damaged equipment.
Basecamp Project Management
During 2015 Technical Services deployed a new project management solution. Basecamp allows users to communicate and collaborate on projects easily and efficiently. The Dashboard provides all discussions, to-do lists, files, text documents and events in one glance. An independent division or college can be developed within Basecamp with all personnel added.
LogMeIn New Feature
Technical Services launched a new feature within LogMeIn Administrator portal called Rescue Lens. The feature allows video-enabled support solution and technicians can use the camera of a mobile device to provide a secure live camera feed. Allowing support to see the actual situation the customer is facing to help resolve configuration and troubleshooting issues.
PDQ Software
Technical Service configures a new software and patch management solution. PDQ Deploy is a tool for remotely deploying software to multiple computers simultaneously. The solution saves time and effort by allowing administrators to distribute software through our campuses with less manpower. Administrators can create package definitions and then easily and quickly deploy the packages to any computer on our network, some main features are deploying applications and patches, scheduling deployments, integrate with Custom Tools and Scripts. Technical Services has configured PDQ Deploy and PDQ Inventory on all campuses.
New SPSS Version
Technical Services obtained a new version of SPSS, which is version 23. The SPSS 23 was tested, verified and is ready for installation for our end-user community. Some of the new features in SPSS version 23 are extending the value of the big data, geospatial analytics, and embedding analytics into the enterprise.
Web
Welcome to Portal - my.TROY.edu
Throughout 2015 IT staff have worked to setup and deploy a new, dynamic system simply referred to as Portal. The Portal system aggregates information from several services that students and employees already use, including Trojan Web Express, Office 365, Blackboard and the Trojan website. It will also serve as a repository for critical information and documents, making it easier to find content without needing to visit other websites.

Portal also supports collaborative tools, empowering employees with new ways to share data inside and outside of their departments. The site employs responsive design techniques; your visit will be adjusted based on your device type.

By visiting your personalized homepage in the Portal you will have quick access to:

Personalized Alert Notifications
Trojan Web Express
Blackboard Courses
Office 365 E-mail, Calendars and Tasks
News, Events and Announcements
Quick Links
View student restrictions
View student account and make payments
Preparation to deploy the Portal has required coordination with many divisions within and outside of the IT department. In addition, prior to official launch, which began December 14th, students and employees provided valuable testing and usage feedback, which will be used to further improve the Portal.
Anyone interested in accessing the Portal now can visit my.TROY.edu and login using their Trojan Web Express credentials. Additional information can also be found at our Portal information site.
Enhancing Online Form Deployment with Formstack
This fall the IT department began launching new forms using a service named Formstack. The service provides secure data storage and rapid form development, making it well suited for building a variety of different forms, especially those that need to be accessible to employees and the general public.
Use of Formstack is only one enhancement to online forms with additional services and options available in the near future. If you have a need for a simple form to collect information for your department then we encourage you to contact the IT department for more information.
Improve Your Web Content Using Analytics
Many departments may not be aware that Web analytics, information that shows how visitors interact with content, is readily available upon request. If desired, automated reports can be setup to be delivered via e-mail or, with approval of the department head, staff can be provided with direct access to Google Analytics Web reports.
The reports can be invaluable in determining how engaged visitors are with content and which pages are the most popular. Examples of available information include the total number of visitors in a month, mobile devices used, and even the locations where most visitors come from. To gain access to this data simply submit a Helpdesk ticket with the details of your request and ensure that your department head approves the request. Data is available for www.troy.edu, trojan.troy.edu and other sites including the new Portal system.
---
Academics Division
Networking
Wireless Enhancement for Apple Teaching Product
Another access point has been added to an area of Sorrell Hall that will be used for new teaching technology utilizing the Apple TV. This product will mimic the technology setup in Hawkins Hall based on information shared between the schools of Education and Mathematics.
Issues with Dropped Connectivity for SCOB Labs
The School of Business has had issues when student were taking exams with online testing centers such as Certiport. IT worked with the School of Business to identify the possible root cause of the issue and has offered several solutions to the issue. As of last notice, the issue may have been caused by a piece of software deployed in the labs and testing was initiated with the software disabled. IT is awaiting a response from the School of Business if the problem existed afterwards during finals.
Technical Services and eSystems
Library ILS Migration Project
Software for the Library has been migrated from Sirsi ILS to OCLC WMS. This software will allows students to authenticate to the library systems using their Active Directory credentials.
Computer Labs
Thirty new computers have been installed in the Geography Lab to replace outdated equipment.
Ten new iMacs have been installed in the Theatre and Dance Lab to replace outdated equipment. A specialized software called Vectorworks used for stage designing was also installed in this lab.
Eight new computers have been installed in the Student Athletic Lab in the Stadium Tower. These computers will be used by student athletes for research, writing papers and testing.
Five new iMacs have been installed in the Tropolitan Lab to replace outdated equipment that continue to fail.
Five new computer have been installed in the Biology Lab to replace outdated equipment.
Sixteen new computers have been installed in the eTROY lab to replace outdated equipment.
Seventeen new computers have been installed in the Nursing Lab in Collegeview to replace outdated equipment.
Five new MACs have been installed in the Interpreter Training Lab in Hawkins Hall. These new MACS replaced some outdated Windows computers.
Fourteen new computers have been installed in the Student Support Services Lab in Eldridge Hall to replace outdated equipment.
Six new computers have been installed in the Student Services Testing Lab in Eldridge Hall to replace outdated equipment.
Twenty-five new computers have been installed in the McCartha Hall Lab to replace outdated equipment.
Thirty new computers have been installed in the Troy Library for student use.
TRI Lab
IT is pleased to announce the launch of a new offering: the TRI Lab, Troy Research and Innovation lab. In cooperation with Troy University Libraries, IT will launch a physical presence; the lab will be housed on the 2nd floor of Wallace Hall Library in Troy, AL. In the Innovation Lab, student and faculty will have the opportunity to interact with a wide-variety of new technologies, collaborate on projects or work independently on research.
The TRI-lab's approach differs from that of other university labs, operating model, and governance. First, it accepts any student from any Troy college with any idea, fostering cross-disciplinary, cross-university collaboration. The i-lab resources support student ventures spanning art, entrepreneurship, health and sciences, technology. Second, it is student centered and faculty enabled, with programming supplied by the Information technology department to help students take their ideas as far as they can go. Third, the i-lab serves as a new model for university collaboration among all disciplines.
TRI Facility Facts
The TRI-lab consists of nearly 800 square feet of space, with more than 5 collaboration stations, most with projection capability, whiteboard walls, and a snacks and drinks area. There will 2 additional meeting/video conference suite on the 1st floor in the coming months as well.
The lab will house over $50,000 worth of technology donated by Troy University's technology partners. Current partners include Howard Technology, Epson, Kyser Furniture, Okidata, Lenovo, AxisTV, Spectrum, Crestron, and Dalite. The design and donations were acquired by the Troy, AL Technical Services division.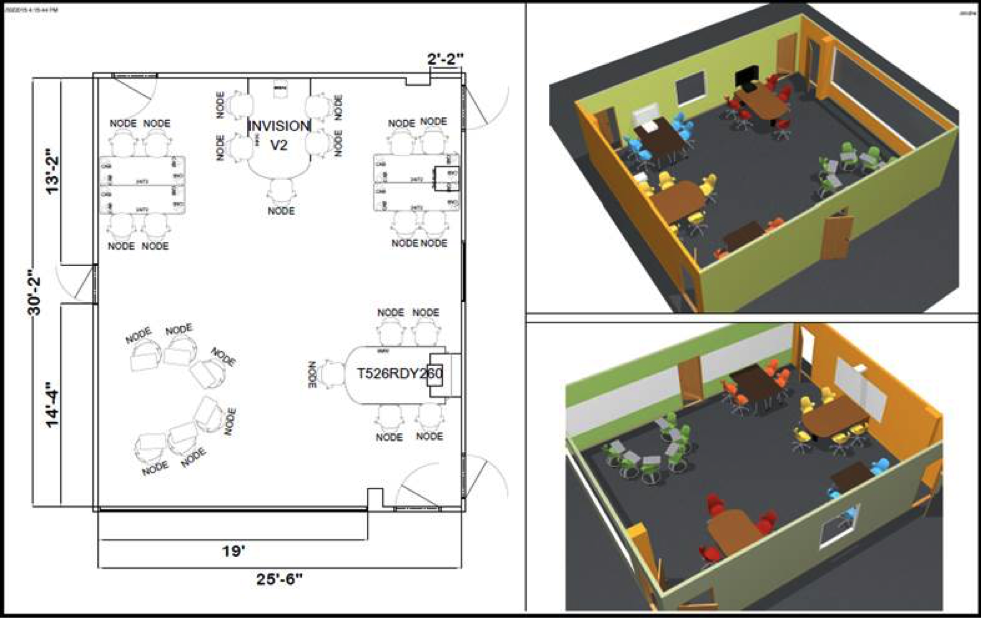 Instructor Station Upgrades
Twenty-five instructor stations on the Montgomery Campus have been installed to replace outdated equipment.
Riverfront Building Construction Completed
Construction was completed on the Phenix City Campus Riverfront Building in July 2015. The Technical Service Division completed the installation of 7 classrooms, 3 labs, and 2 conference rooms, in preparation for the first classes to be held in August. The equipment installed includes lecterns, interactive short-throw projects, LCDs, document cameras, Wacom tablets, a touch panel controller, and software. A collaboration lab was completed, which houses collaboration stations with two LCDs per stations for the students to quickly and easily share and distribute information.
College of Education
Technical Services assisted Howard Computers and Visix with the install of three new digital displays for College of Education. The display will be used to broadcast local emergency notices, university and departmental announcements, also will broadcast a directory for Hawkins Hall.
Wright Hall
Technical Services along with Howard engineers install technology equipment in 212G Wright Hall. A large TV screen was added with DVD player and a laptop to enhance the classes for Speech and Language Department.
Patterson Hall 1st Floor Classrooms
Technical Services re-negotiated the installation cost with Howard Computers regarding the quote for new technology in the first floor classrooms of Patterson Hall.The negotiations resulted in a cost savings totaling $2,000. New classroom technology equipment was ordered and installed to create a better environment for professors to teach and for students to receive. The old equipment that was replaced was eleven years old and failing rapidly.
---
Advancement & External Relations Division
Networking
Recruiter VPN Access
Continued work on VPN accounts for addition and removal for recruiters in the field and looking into issue with SER on disconnects for recruiters at SER locations and what can be done to reduce and/or eliminate those.
Bandwidth Upgrade for Development
IT has now completed work with a local company to provide the Development Center with faster Internet services along with porting all traffic thru the Troy, AL campus site first via an encrypted tunnel.
Football
IT has installed additional credit card devices to cover every open booth for concessions at the Football Stadium for the fall season. There are now more 28 credit card devices for concessions at the stadium.
Renovation to Davis Field House
IT has installed new connections for the renovated space of the Davis Field House. We also added additional Wi-Fi capacity in the weight room on the lower level and connected the arm gate for the parking lot behind the Davis Field House to the network for control by the Security Office in Gardner Hall.
---
Finance & Business Affairs Division
Networking
TransAct (Trojan-Card) Upgrade
Blackboard Card Management System Upgrade: IT has completed the upgrade to the Trojan-Card and eAccounts system to the latest version and it will also afford students a way to check their balances online now. In addition to the Upgrade, IT assisted Food Services in positioning Point-of-Sale stations at the Football and Basketball Arena so students could utilize their Dining Dollars to purchase refreshments.
Inventory
Continuing to work on inventory in updating current list for all Troy IT inventory of products in relation to capitalized equipment, re-organizing categories, standardizing on product, and completing the additional information fields as required by Asset Management. Current inventory list is due to Asset Management on August 11th, 2014.
Technical Services and eSystems
PDQ Software
PDQ Deploy is a tool for remotely deploying software to multiple computers simultaneously. It saves time and effort by allowing administrators to install software. IT deployed this software to better manage software installation and save time for the end-user community.
IT Summit
On July 28 & 29, 2015, IT hosted the IT Summit. There were 74 sessions offered during this year's Summit. Of these sessions, 27 were also offered via WebEx. We had 147 participants on site and 80 participants on line. We had 8 vendors participate in the exhibition area. The Summit was housed in the Trojan Center and used classrooms in Bibb Graves Hall, Patterson Hall and MSCX. Nineteen of the sessions were hands-on to benefit the end-user. An Internet CafZØ was setup for participants to check email and various work items.
Secure Shared Environment
Technical Services setup secure NAS folders that were recently created for Student Financial Services to provide an added security measure to the environment. Technical Services assisted in attaching the users to their shares and transferring all University related files. These files were then deleted from their portable devices to further enhance security. The employees have been asked to use the share as their main storage space for any University related documents and files.
---
Student Services and Administration Division
ERP
Recruiter Analytics
Recruiter Analytics is a reporting and analytics solution for Enrollment Management and Admissions offices that combines data from Recruiter and Colleague. Troy IT and Enrollment Management are currently working to deploy the reporting solution. The information in Recruiter Analytics does the following: provides for effective recruitment, allows personnel to understand the effectiveness of campaigns, helps to identify and recruit students who would be successful at the institution.
Student Planning
Student Planning: Register for courses using Student Planning at https://sss.troy.edu/Student/
Through Student Planning, Students now have the ability to:
Plan Future Semesters and Terms
Track Degree Progress
Review and Archive Planned Courses
Networking
Guest Internet Access
IT assisted the Office of Student Affairs in re-locating the Pike County Virtual High School from the ELC building to a temporary location for this academic year. Network services, Wi-Fi, and Internet services were repositioned so the PCVHS could utilize these services in the new location on campus.
A secondary Internet connection was installed in the Phenix City Campus Riverfront Building in October 2015 for guest Internet access. The connections allows members of the community to access basic Internet services while attending functions hosted at the Riverfront facility.

Guest Accounts Logins have been requested and issued to International Programs for incoming non-registered student that must participate in the ESL program before. IT also created some 15 other guest accounts during the fall semester for various events held around campus ranging from Writing Workshops, to Inservice Events, Athletics events and Student Field Trips.
Construction
Construction was completed on the new dormitory that is New Resident Hall. All connectivity and cabling was completed in time for student move-in. Building feature IPTV with a television per room, Digital Signage at building entry points, wireless everywhere, media plates with Ethernet connections in each room.
Network Consolidation
Networking has now connected all Alabama and Georgia campus sites back to the Troy location via site-to-site encrypted tunnels. This will allow passing of traffic back and forth securely and directly. This has been further expanded to allow network to network client to server communication and some services and servers to be centrally located for better ease of management by the IT staff.
Wireless Controller Software Upgrades
IT has upgraded the dormitory wireless network controllers to the latest "Go-To" software version as per the vendors suggestion. This is add some enhanced features that will be added in the coming weeks/months to the dormitory networks.
Construction
Bartlett Hall renovations for the new Manuel Johnson Center at the Montgomery Campus required the installation of 11 data/voice outlets and one network switch.
IT and network support was provided in the move of the Confucius Institute to a more spacious accommodation in the Rosa Parks Library and Museum, 2nd floor.
Special Event
IT and network support were provided to the Rosa Parks Museum during renovations to the gift shop and Alabama Public Television's broadcasting of events in conjunction with the public commemoration of the Bus Boycott Anniversary on Dec. 1.
Site Move
Initiated the move of the Eglin Air Force Base site to reposition equipment at the Pensacola location. All services and systems have now been relocated and/or turned off for the Eglin location.
Systems
Recruiter Server Upgrade
Software for the Ellucian Recruiter was upgraded to 3.7.1.
Technical Services and eSystems
New Dorm
Televisions and IPTV solution was installed in the 358 dorm rooms within the New Dorm on the Troy Campus and they were updated and tested prior to the moving in of the students in August.
Student Success Center Kiosks
New workstation kiosks have been added to the student success center at the Phenix City locations to accommodate new students and provide faster access to them due to an increase in enrollment.
---
Statistics
E-mail

2nd Quarter
E-mail Category

4/1/15 - 5/1/15
(Incoming E-mail Filter)

4/1/15 - 5/1/15
(Outgoing E-mail Filter)

5/1/15 - 6/1/15
(Incoming E-mail Filter)

5/1/15 - 6/1/15 (Outgoing E-mail Filter)

6/1/15 - 7/1/15
(Incoming E-mail Filter)

6/1/15 - 7/1/15
(Outgoing E-mail Filter)

Totals for Quarter

Virus Detected

171

63

89

0

95

29

447

Potentially Unwanted Programs

485

0

115

0

81

0

681

Compliance

8,683

607

15,011

47

8,867

2,033

35,248

Image Analysis

0

0

0

0

0

0

0

URL reputation

5,503

1,408

5,151

4,821

5,741

3,160

25,784

DLP

0

0

0

0

0

0

0

Spam Phish

496,156

28,284

474,597

131,537

380,908

128,327

1,639,809

Sender Authentication and Reputation

5,527,600

0

4,896,925

0

5,752,607

0

16,177,132

Unscannable Content

0

0

0

0

1

0

1

Other Detections

279

1

786

2

154

5

1,227

Monitored

6,773

760,002

56,633

576,275

44,036

817,444

2,261,163

Legitimate

2,557,934

0

2,559,120

0

2,454,749

0

7,571,803
3rd Quarter
E-mail Category

7/1/15 - 8/1/15
(Incoming E-mail Filter)

7/1/15 - 8/1/15
(Outgoing E-mail Filter)

8/1/15 - 9/1/15
(Incoming E-mail Filter)

8/1/15 - 9/1/15 (Outgoing E-mail Filter)

9/1/15 - 10/1/15
(Incoming E-mail Filter)

9/1/15 - 10/1/15
(Outgoing E-mail Filter)

Totals for Quarter

Virus Detected

188

3

332

79

234

2

838

Potentially Unwanted Programs

122

0

1,077

0

28

0

1,227

Compliance

21,058

3,285

32,006

2,506

33,292

388

92,535

Image Analysis

0

0

0

0

0

0

0

URL reputation

5,659

233

6,707

712

5,603

121

19,035

DLP

0

0

0

0

0

0

0

Spam Phish

418,927

24,703

335,366

488,307

338,219

130,834

1,736,356

Sender Authentication and Reputation

6,186,553

0

4,712,670

0

4,504,183

0

15,403,406

Unscannable Content

0

0

0

0

1

0

1

Other Detections

1,567

38

1,383

11

637

6

3,642

Monitored

57,404

858,844

39,570

712,476

46,355

1,161,227

2,875,876

Legitimate

2,535,985

0

2,661,375

0

2,680,216

0

7,877,576
4th Quarter
E-mail Category

10/1/15 - 11/1/15
(Incoming E-mail Filter)

10/1/15 - 11/1/15
(Outgoing E-mail Filter)

11/1/15 - 12/1/15
(Incoming E-mail Filter)

11/1/15 - 12/1/15 (Outgoing E-mail Filter)

Totals for Quarter

Virus Detected

225

1

185

2

413

Potentially Unwanted Programs

1,595

0

820

0

2,415

Compliance

39,950

561

8,239

2,320

47,070

Image Analysis

0

0

0

0

0

URL reputation

6,900

356

8,719

654

16,629

DLP

0

0

0

0

0

Spam Phish

405,544

75,677

469,139

73,070

1,023,430

Sender Authentication and Reputation

4,180,551

0

4,076,121

0

8,256,672

Unscannable Content

0

1

0

0

1

Other Detections

137

13

544

22

716

Monitored

45,799

2,974,152

55,107

2,929,075

6,004,133

Legitimate

2,803,356

0

2,862,421

0

5,665,777
Microsoft Office 365
| | | | | | |
| --- | --- | --- | --- | --- | --- |
| | 9/26/15 - 9/30/15 | 10/1/15 - 10/31/15 | 11/1/15 - 11/30/15 | 12/1/15 - 12/16/15 | Totals for Quarter |
| Good Mail | 555,863 | 2,750,423 | 2,697,996 | 1,655,296 | 7,659,578 |
| Malware Detections | 11 | 29 | 213 | 36 | 289 |
| Spam Detections | 28,530 | 140,916 | 146,213 | 81,474 | 397,133 |
Intrusion Prevention
| | |
| --- | --- |
| Description | Total for Quarter |
| FTP Attempts | 79,012 |
| Threats Blocked | 435,836 |
| Spyware Blocked | 282,556 |
| Viruses Blocked | 27,780 |
| SSH Login Attempts | 26,003 |
Helpdesk Stats
Region

***Total***

Alabama Campus

15,499

Dothan

1,805

Montgomery

1,702

Phenix City

969

Troy

11,023

eTroy

2,506

2,506

Atlantic Region (Troy Assist)

6

6

Global Campus

3,433

3,433

Pacific Region

78

78

Region Not Specified

2,850

2,850

Total

24,372

24,372
Knowledgebase Usage Report (4/1/2015 - 12/16/2015)
| | |
| --- | --- |
| Articles Viewed | 4,348 |
| Searches Performed | 33,793 |
| Total Times Rated | 51 |
| Times Rated Helpful | 22 |
| Times Rated Not Helpful | 29 |
Deflected Tickets Report (4/1/2015 - 12/16/2015)
| | |
| --- | --- |
| Tickets Started | 37,069 |
| Tickets Deflected | 20,268 |
| Percent Deflected | 54.6% |
Customers Report (4/1/2015 - 12/16/2015)
| | |
| --- | --- |
| New Customers | 3,832 |
| Total Customer Count | 153,443 |
| Growth | .2% |
SOS - sos.troy.edu
| | |
| --- | --- |
| Category | Total for 2015 |
| System Notices | 83 |
| Safety Alerts | 12 |
| Total | 95 |
Video Streaming
| | | | |
| --- | --- | --- | --- |
| Event | Hits/Play | Minutes Viewed | Bandwidth Usage (MB) |
| 2015 Helen Keller Lecture | 49 | 619 | 2,258.10 |
| 2015 Spring Troy Campus Commencement | 2,248 | 42,877 | 136,833.46 |
| 2015 Summer Troy Campus Commencement | 837 | 12,439 | 40,519.22 |
| 2015 Faculty/Staff Convocation | 521 | 20,114 | 64,417.52 |
| 2015 Fall Troy Campus Commencement | 2,250 | 104,450 | 90,060.87 |
| Total | 5,905 | 104,450 | 334,389.17 |