Microsoft Teams Together Mode
Microsoft Teams Together Mode
How to get the most from Together mode
Together mode is a new option in Microsoft Teams, Microsoft's premier app for teamwork and team connection. You've probably seen it by now; everyone is united in a virtual space as if in a theater instead of being separated in boxes.
On one level, Together mode is a simple approach to making meetings feel better during the pandemic, however there's also a deeper level that touches on our latest scientific understandings of cognition, social perception, and communication.
Together mode has a unique look, but it also has a unique feel. People typically become more relaxed, more attentive to one another, more playful, and yet more focused on shared goals. The design offers unique benefits: less fatigue from frequent video meetings, better sense of connection with others, and more effective meetings.
When to use it:
The initial design has been optimized to help people during the pandemic. For now, Together mode is ideal when each person is in front of a webcam in a different location. We are exploring how the design can evolve to support conference rooms and other situations.
Keep in mind that you need at least 5 participants to enable Together Mode in Microsoft Teams.
Together mode is especially well-suited to calls in which multiple people will speak; we find that it's easier and more comfortable for people to find moments to enter a conversation.
Together mode helps when you must go to a lot of video meetings. Most users report less meeting fatigue.
Together mode is helpful when a group might have trouble staying attentive, for instance in education settings.
Together mode supports presenters who need to "read the room" or get energy from attendees.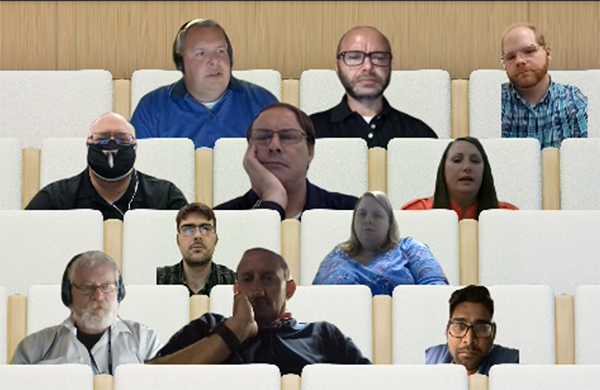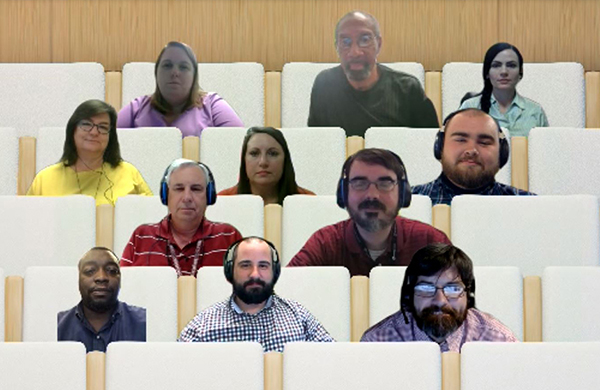 When to not use it:
If you need to show physical content in your environment, such as a physical whiteboard, then Together mode is not the best choice right now, because it only brings you, not your environment, into the shared space.
The first version of Together mode isn't optimized to share the screen with PowerPoint presentations. If a PowerPoint presentation is the main event and will take up the entire time of a meeting, Together mode might not be helpful.
Works best when users are not walking around or otherwise moving the camera or screen during the session.
Together mode is more engaging than a typical video chat, and therefore more distracting from potentially unsafe tasks like driving.
The initial release of Together mode supports up to 49 people at a time optimally. Together mode might still be the best choice for a meeting with more than 49 participants, but that will depend on many details about how the meeting is conducted. Best practices for large meetings in Together mode are still emerging.
Best Practices for using Together mode:
Don't turn off your camera! It might seem strange to see yourself in the group at first, but that is what allows for the improved understanding of interpersonal signals. For example, being a teacher seated with your students might look odd at first, but you'll probably find that you understand the students better and they pay more attention to you when everyone can see the attention signals passing between all present.
While the initial release works best when everyone has the camera turned on, Microsoft is working to support voice only participants at an equal level as well as all types of ability.
But what if you're shy, and prefer to leave the camera off? Keep an open mind and experiment at whatever pace is comfortable. One thing to keep in mind is that when people become more able to interact expressively, then appearance matters proportionately less. If people are paying more attention to what you say and indicate non-verbally, then they're paying less attention to how you look.
How to enable Together mode
Click on the profile menu located at the top-right corner and open "Settings".
Under the "General" tab, enable the toggle for "Turn on new meeting experience".
Restart Teams.
Start a video call.
Tap on the "..." more options icon.
Tap on Together mode.
Select a background that you feel is a good setting.
Tap Apply.