IT Update
June 2011 Issue
A Message from the CTO:
Several months have passed since the last IT Update. Your Troy University IT team has been working on large infrastructure upgrade projects – the quiet framework that powers our digital systems. Included among the projects are core network upgrades, expansion of wireless networking access, server replacement, software upgrades and bandwidth enhancements. In all, over 600 devices have been upgraded or replaced.
The IT Update is undergoing some changes as well. As you read below, you will notice new sections that detail university-wide efforts, comments on current successes as well as planned, ongoing projects.
The 2011 IT Summit is only a few weeks away – if you plan to participate, be certain that you have registered. There is no registration cost for the summit. The event will highlight new technologies, offer training opportunities on current software and offer opportunity for participants to engage in open, constructive dialogue with your IT team. Last year's event was a major success – the forum discussions provided IT with input that molded our 2010-2011 IT plans.
New technologies emerge constantly; contact IT if you need assistance in reviewing devices and/or software before purchasing. The current hot technology is ultra-mobile computing. Many employees have purchased the devices, believing that they are a suitable replacement for laptops or desktop computers – they are not, at least not in the current form. The devices have yet to mature for the business environment – in most cases, synchronization with a traditional computer is required, and, due to limited storage and interfaces to pervasive, traditional technology, the devices are not suitable for everyone. We will offer sessions at the IT Summit on mobile computing devices and emerging technologies.
New in this issue is a link to a security publication, OUCH!, published by SANS. The Troy IT department is a participant in the project, Securing The Human, as the SANS institute; a benefit of our participation is free distribution of the OUCH! security newsletter. The current issue details best practices regarding password management.
As always, continue to practice safe computing habits: do not share login credentials or personal data via email, do not leave applications running on an unattended PC.
Thanks.
W. Greg Price
---
University Wide News
OUCH! Newsletter
This is the latest issue to a security publication, OUCH!, published by SANS. The Troy IT department is a participant in the project, Securing The Human, as the SANS institute; a benefit of our participation is free distribution of the OUCH! security newsletter.
Click HERE to read the OUCH! Newsletter
E-mail Server Upgrade
The migration to the new email server has been completed. There will be a future release of calendar capabilities.
New Employee Process for IT
The Troy University IT department has updated the New Employee process and website. IT has worked to combine all new employee requests into one ticket to facilitate a quicker process. The supervisor or the secretary on behalf of a supervisor must place the original new employee helpdesk ticket at http://helpdesk.troy.edu. IT will not accept a helpdesk ticket from a new employee.
You must complete and submit the paperwork required by Human Resources before completing these steps. Information Technology personnel will not create these accounts until your information has been entered into Datatel by Human Resources.
Link to the New Employee website: https://it.troy.edu/Staff/new.html
IT and HR Working Together
Technical Services and HR have completed the new online Harassment and Prevention training. Angel Johnson worked with Janet McQueen to deploy the HR training module that will allow employee to view the HR training anytime from anywhere. There will be more information released by HR in the coming months.
Paperless Initiative
As part of the University's 2015 Strategic Plan's paperless initiative, Information Technology has implemented EchoSign, an electronic portal for routing University forms through the appropriate signature process.
The IT Department, in collaboration with HR, Purchasing, and the Asset Management Department, has implemented the electronic faculty and professional staff Leave Request Form, Donation form, and the Asset Pickup and Delivery forms for immediate use. You may find these forms on each department's websites.
Additionally, future e-signature and paperless workflow plans are available at https://it.troy.edu/ITAPS
Please feel free to create a helpdesk ticket at http://helpdesk.troy.edu if you have any questions or issues with EchoSign.
iPhone/Android App (Athletics)
Troy has partnered with Smartphone Technologies in Jacksonville, Fla. to produce an iPhone and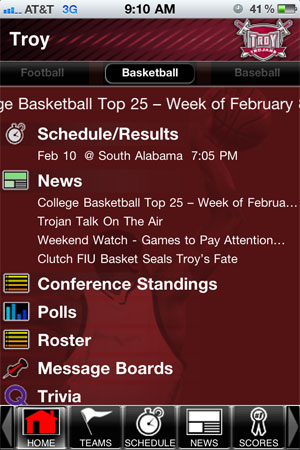 Android app for the Athletics Department. The App will provide users with access to Schedules/Results, News, Rosters, Standings and Score updates from their mobile devices. The app was recently submitted and approved by Apple and is now live in the Apple App store. The Android app is currently available in the Android Marketplace. Both apps sell for $1.99.
Troy University (College Superfans App) - Apple iTunes Store
Troy University (College Superfans App) - Android Marketplace
University's IT chief named Premier 100 member
Troy University's chief security and technology officer has been named one of the top 100 leaders in information technology by "Computerworld" magazine.
Click Here for more information
IT Security Team Honored
For the third year in a row, the TROY IT Security Team has been recognized as a finalist for Best Security Team in the U.S. by SC Magazine. The other finalist for the award included GoDaddy.com, ING, Teleperformance and USAA. The winner of this year's award was the GoDaddy.com security team.
Helpdesk EasyAnswer Feature and Parature Knowledge Base
What is EasyAnswer and how does it affect me?
A University end-user navigates to the helpdesk and begins to submit a ticket...starting with the Details field. You might type in something like "Email password". As soon as you click out of the Details field and into the Summary field (depending on your settings), a bar will appear, alerting you that you have suggested answers below. You can then scroll through the pages of answers and if you see an answer they believe is what you are looking for, you simply have to click it and it will pop open in front of you. If you still believe that you have not found your answer within the article, you can x out of the article and submit the ticket. If you are content with the article you found, you can navigate away and the ticket will be deflected.
Troy Technical Services updated and deployed new Knowledge Base articles within Parature to enhance the EasyAnswer feature. These KB articles include questions regarding software, quotes, hardware, email, Blackboard, eCampus Instructional Support and other various questions and/or answers that will be beneficial to end users at Troy University.
Chat with Support Staff
The Helpdesk is now offering a chat feature for many IT divisions, Blackboard, Remote Proctor, and eTROY Instructional Design. The new feature will allow end-users to easily chat with the support divisions previously mentioned in lieu of completing a helpdesk ticket during the normal support hours.
Look for the "Live Chat" feature on the helpdesk site, http://helpdesk.troy.edu and the Blackboard Banner, http://splash.troy.edu/go-to/blackboard/ .
Online Intent to Graduate Form
Troy University has implemented an online Intent to graduate form. This form will enable students to file their Intent to Graduate request online. This process should reduce the time it takes for the university to process Intent to Graduate forms. The new process also eliminates the amount of paper used to process requests. Visit the Records forms page: http://www.troy.edu/records/forms.html
---
Dothan Campus News
Entrance Cameras
Connected and integrated into security camera system.
Computer Labs Upgraded
Three computer labs have been upgraded to new images for summer classes.
---
Phenix City Campus News
Campus Network Upgrade
Phenix City IT upgrade segment of the campus network backbone to increase routing of data packets by a factor of 10. The increase in speed will allow for faster file transfers to file servers on campus, and will facilitate network-based cloning of computer labs by IT personnel.
Hardware/Software Upgrade Completed of Network Domain Controllers
Phenix City IT has completed the upgrade of both Windows domain controllers to new server hardware and upgraded the Operating Systems to Windows Server 2008 R2. One of the old controllers will be repurposed as a WSUS server (Microsoft Windows Server Update Services) .
VMWare Project: Phase I Completed
Phenix City IT has installed hardware for server virtualization. Server virtualization reduces the amount of power consumption, cooling, and space requirements by combining multiple servers into one physical unit. IT will initially take advantage of the virtualization platform by converting servers used for secondary services, such as file and print servers and network management application servers.
Installation of CISCO VPN Appliance
IT has completed the installation of a CISCO VPN appliance. The updated appliance provides select users a more secure and reliable remote connection to the campus network.
Livetext Training for eTROY Staff
Dr. Brian Endfinger, Director of User Support and Training for the Phenix City campus recently conducted Livetext training for the instructional support team and Blackboard support team of the eTroy Division. Dr. Endfinger, along with Marci Shirley from the College of Education trained support team members how to help both students and faculty with Livetext. In addition, training videos were created to introduce students and faculty to Livetext. The videos can be accessed at http://phenix.troy.edu/academics/dep_education.html
New Landing Page for Computer Labs
A new landing page for all computer labs and classrooms on the Phenix City Campus has been configured in the Impulse appliance. After a student logs in to the network, they are presented with the TROY Phenix City Campus home page. In contrast to the previous intranet landing page which contained information relevant to faculty and staff.
---
Troy Campus News
eCampus Transition
Technical Services evaluated computer equipment that was transitioned from SER for eCampus. The functioning units will be reformatted, set up to IT standards and issued to eCampus new employees.
New/old technician on the block
Drew Tatum returned to the Technical Services department as a full time staff member, he replaced the position previously held by Jody Sexton. Drew worked previously with Technical Services as a part-time technician.
eCampus Relocation Project
IT Technical Services Division has now configured desktop equipment for the new eCampus Proctor lab. In the coming months Technical Services is expected to configure and install Deep Freeze for the eCampus Proctor lab.
Telecommunications provided support by relocating telephone services to the new location.
IT Training
The Troy University Information Technology Department, along with the Human Resources Department, will be conducting a workshop to provide training on the new Online Adjunct Faculty Contract and IT's New Employee Process. IT and HR will broadcast the training to all TROY locations to eliminate travel as much as possible.
McAfee VirusScan 8.7i Package
IT has distributed a new release package for the latest Enterprise Level McAfee VirusScan 8.7i anti-virus software. The package is now available at https://it.troy.edu and ready for download. This version works with both x86 and x64 versions of windows.
Network Authenticated Login
Troy IT and Impulse have now implemented the Troy University Intranet "Landing page" for all Alabama, Georgia, and Florida campuses. The Intranet page will be for internal information to be disseminated to entire groups on a quicker scale. Also, users can get assistance with common Network Authentication issues by visiting https://it.troy.edu/networking/index.htm . Feel free to check out the FAQ section as well.
Wireless Gaming Network (Fixed)
Troy IT has now corrected and tested connectivity to the Dorm-Gaming-Console network. Issues persisted in users being able to connect to the wireless network, but could not get a valid IP Address from that network in order to be able to use said network. IT consulted with engineers from both CISCO Systems and Meru Networks to discover the problem and finally resolve the issue.
Network Enhancements
IT Network Division worked during the holiday break to re-configure network services for specific areas of the Campus Network. These areas were "daisy-chained" to each other creating "bottle necks" in the network. After adding additional network paths, the buildings affected are now singularly connected back to a distribution star backbone that is strategically located in different areas of campus.
Adams Administration Wireless Upgrade
Wireless networking in Adams Administration has been upgraded for better coverage and speeds. All office areas of the building have been tested for connectivity in the building and are functioning at capacity.
IT Addition and Joint Training Center Wireless Upgrade
IT has now successfully upgraded and tested new Wireless Access Points from Meru Networks Inc. to revision N. These devices provide a wider area of coverage at faster speeds. With this implementation, IT is now making the recommendation for all new Wireless to order the Meru Networks Access Points and converting away from the CISCO devices. Area where these may be installed in will need to be evaluated for network infrastructure being that these devices must connect to Gigabit Ethernet ports instead of the traditional 10/100 Base T Ethernet ports which are predominant across campus now.
Online Knowledgebase
IT has been utilizing the Parature Helpdesk for some time now. The network division has been working on some "Self Help" Q&A that has now been posted in the "Knowledgebase" section inside http://helpdesk.troy.edu. Please make sure to visit and check this out and feel free to forward us what you think may need to be addressed as issues that would make self troubleshooting better for everyone.
Credit Card Swipe Stations
IT has completed the work for Sodexho to covert the old "dial-up" credit card swipe stations to network based devices. Presently there are 13 devices that have been transitioned to network based card swipe around campus.
Telephone Service
Telecommunications maintained telephone service at a service level of 2 reports per hundred stations.
Telecommunications Trouble Reports
Responded to trouble reports within 24 hours or less and to service requests within 48 hours or less.
Bibb Graves Project
Telecommunications participated in the conduit and cable planning for the Bibb Graves project.
Power Meter Wiring
Assisted the Physical Plant by completing the power meter wiring for the remaining buildings.
SAVE Project and Personal Counseling relocation
Telecommunications provided support by relocating telephone services to the new location.
Nursing Accreditation Site Visit
Technical Services configured laptops and printers for the Nursing Accreditation Site visit. During this site visit, Technical Services was on call to supply any and all technology support while the team was onsite.
IT Loaner Program
Technical Services restored desktop units in an effort to enhance our loaner program. These units will be used in IT Loaner Program when an end-user is waiting on parts or a new unit.
eCampus Testing Lab
Technical Services configured 40 new PC's for the eCampus Testing Lab located at University Park and also three new PC configurations for incoming employees at eCampus .
Network Distribution Re-alignment Project
IT Network Division has now completed the realignment of fiber so that each of the distribution points for the network across campus now have a direct fiber optic feed back to the network core inside Bibb Graves Hall. Previously, several distribution points "daisy-chained" off each other, potentially creating information bottlenecks inside the network.
Dorm Wireless Upgrades/Replacement
Wireless networking in all RESNET except Pace Hall has now been upgraded/replaced with newer N-150 Wireless devices that not only provide faster on campus speeds, but also increases the wireless coverage area in the buildings that have been upgraded/replaced. Testing of gaming-consoles for potential connectivity issues is currently underway.
Wired RESNET Upgrade/Replacement
IT has now successfully upgraded and tested new wired Ethernet ports to all RESNET buildings that previously had network equipment that was EOL (End-Of-Life). The following RESNET buildings were not affected by EOL equipment: Trojan Village 100, Trojan Village 200, Trojan Village 300, Trojan Village 400. Alumni Hall is not scheduled to be replaced until renovations plans are approved. Pace Hall will be replaced during the Summer Semester and before the beginning of Fall Semester.
| | |
| --- | --- |
| | |
| Before [Click Image for Large View] | After [Click Image for Large View] |
Alabama Association of Institutional Research Conference
Troy University hosted the 2011 Alabama Association of Institutional Research conference in the Trojan Center. Technical Services assisted by setting up laptops provided through IT's loaner program.
Spring Preview Day
Technical Services was onsite at the Spring Trojan Day to answer questions from prospective students and parents related to information technology use on campus.
Science in Motion
Technical Services reconfigured 14 laptops for Science In Motion department. These laptops have been utilized in different classrooms across the state to help educate students with the study of Science.
Geomatics Lab
Technical Services assisted Geomatics Department with reformatting 20 PC's in their GEO lab. This process will enhanced the PC's in the lab for better performance, function properly and it deleted unnecessary data that was stored.
Virus or Malware
Technical Services continues to combat malware and spyware posing as viruses on PC's around campus. Please be very careful on websites and do not participate or click on anything unless you are sure of the environment.
Online Interpreter Training Program Documentation Form
Troy University has implemented a new online Interpreter Training Program documentation form. This form allows Interpreter Program students to document their required participation events (Working in the Language Lab, Attended Workshops, Attended Interpreting Events, and Attended Deaf Community or Silent Gathering Events.) For more information contact the Interpreter program.
---
Global Campus News
Video Conferencing Classrooms
Video conferencing capability was added to classrooms at the Tampa, Albany and Savannah locations. These systems include multiple cameras and multiple displays for presenter video, remote video and content.
IP Telephony Upgrade
The Southeast and Western regions primary phone system was upgraded. The system has approximately 350 phones at 21 locations in 7 states. This internet based phone system was brought up to current support level with Cisco.
Virtual Private Connection to private cloud
Small Troy offices around the country that use affordable DSL broadband for internet access can now securely join the SER/WR private internet. This allows one set of expensive network security appliances to protect many locations.
Site Routers Upgraded
Primary routers where replaced or upgraded at 20 Troy locations. The existing equipment was at End of Life.
Windows 7 and Office 10 Upgrades
Southeast region student computer labs have been upgraded to Windows 7 and Office 10. This includes 12 locations in three states.
Atlanta and Columbus Computer Labs
A new computer lab/classroom with 16 computers was added at the Atlanta location. A new computer lab/classroom with 20 computers was added at the Columbus location.
Tampa IP Telephony
IP telephony was installed at the Tampa location. The Cisco phones required for the installation came from the recently closed Troy Distance Learning Center. Leased telephone equipment will no longer be required resulting in savings to the University.
Intrusion Protection System
The IPS for the Southeast and Western region has been replaced. This system performs deep inspection and protection against network threats.
---
University Wide Upcoming Projects
Activity Insight (Digital Measures)
The Activity Insight roll-out to a larger population of faculty began last month. The addition of faculty who taught courses from summer 2010 to spring 2011 was completed on March 10th. Additional data imports will be ongoing. Users should note that fields they cannot edit are reserved for information that will be imported from Datatel. In addition, some faculty may notice duplicate degree information. IT is currently working to correct this issue, which will eliminate duplicate entries and also update out-of-date degree information. Faculty who cannot login to Digital Measures may submit a Helpdesk ticket for assistance.
Parature Knowledge Base
Technical Services is assisting with a Knowledge Base cleanup project within Parature Helpdesk Software. This cleanup will supply more information to further support the end-user with day to day technical issues or questions that arises.
Security Camera Conversion to IP Cameras (Dothan Campus)
90% - Server re-configuration in process.
Sony Hall Polycom Upgrade (Dothan Campus)
CODEX installed and tested. Conversion from wall mounted to ceiling mounted speakers remain.
Standardized Classroom (Dothan Campus)
Deployment continues. Estimated completion of August 2011.
Windows 7 & Office 2010 Upgrade (Dothan Campus)
Deployment continues. Estimated completion of August 2011.
Security Network Expansion to Grounds Building (Dothan Campus)
Ongoing. Additional switch to be installed in the Grounds Building. Networking has been extended.
Ft. Rucker Classroom Upgrade (Dothan Campus)
Analysis has begun.
Updating Classroom Software (Phenix City Campus)
The Phenix City IT department is in the process of converting all classroom computers to Windows 7 and Microsoft Office 2010. The department has been very successful in using Windows 7 Backup and Restore utility to upgrade existing systems. Upon completion of this task, all classrooms and labs will be running Windows 7.
Web Server Migration (Global Campus)
The SER/WR web server is being upgraded to a MS server 2008 platform with Coldfusion 9 and SQL 2008 in preparation to moving to the TROY Data Center.
IT Network Distribution Upgrades (Troy Campus)
IT Network Division is currently replacing EOL networking equipment across the Troy Campus. Buildings currently completed are as follows: Wright Hall, ELC Building, Softball Building, Tennis Complex, Mitchell Hall, Physical Plant, Bus Shop, Grounds Shop, Alumni House, Sartain Hall, Football Pressbox, Davis Field House, Baseball Pressbox, Baseball Office Building, Soccer Building, Natatorium, CollegeView, Adams Center, MSCX Building, Alumni Hall, Trojan Village 100, 200, 300, and 400, Clements Hall, Honors Cottage, Shackleford Hall, Gardner Hall, Hamil Hall, Cowart Hall, Alpha Gamma Delta, Phi Mu, Alpha Delta Pi, Kappa Delta, Chi Omega, Hillcrest Hall, Paden Hall, Malone Hall, and Student Rec Gym. Adams Administration is now completed, along with several other buildings. The only remaining buildings to complete are Pace Hall, Wallace Hall, and McCartha Hall. These are scheduled to be finished by the close of business on June 17th, 2011.
IT Network IPS/IDS Implementation (Troy Campus)
IT Network Division has now replaced all older versions of IPS/IDS with newer, more modern IPS/IDS systems. IT also assisted SER in implementing their new IPS/IDS and has now updated and distributed the latest profiles to this system. These systems have been placed inline and are currently running in "Live" mode.
eCampus Relocation Project (Troy Campus)
IT Network Division has now completed the relocation of eCampus to it's new home at 100 University Park. Wired and Wireless networks have been installed and tested and are currently in production.
Bibb Graves Renovation Project (Troy Campus)
IT has received the network equipment for the Bibb Graves Renovation. IT is currently awaiting the contractors to allow us to start installing the networking equipment for the building. Wiring has yet to be finalized in the building.
Dining Hall Project (Troy Campus)
Troy IT has been working with consultants to design a network infrastructure for the new Campus Dining Hall. This solution will encompass some wired connections for POS systems and a heavy saturation of wireless connectivity.
Telecommunications will be providing support by installing the wiring for the dining hall project.
Air Force ROTC relocation (Troy Campus)
Telecommunications will be providing support by relocating telephone services to the new location.
Wireless Re-Distribution Project (Troy Campus)
IT Network Division will be working to get wireless devices re-distributed to academic areas across campus that currently do not have wireless access, by fall semester. Once academic areas have been completed, administrative and recreational areas will be assessed.
Several building diagrams have been presented to the Telcom Division to begin wiring to place re-distributed access points to academic areas that were removed from dormitories. The project will encompass putting wireless network access in academic areas and is scheduled to be completed by Fall Semester.
---
Statistics
24 Hour Days Worked by IT Staff
| | |
| --- | --- |
| Time Period | Days |
| Since January 2011 | 18 |
Web
| | | | | |
| --- | --- | --- | --- | --- |
| Server | Average Hits Per Day | Unique Visitors | Successful Page Hits | Total Visits for 2011 |
| www.troy.edu | 59,030 | 1,176,574 | 8,913,560 | 3,809,220 |
| it.troy.edu | 35,758 | 165,051 | 5,399,472 | 364,527 |
| library.troy.edu | 1,458 | 51,776 | 220,176 | 110,349 |
| trojanweb.troy.edu | 210,804 | 226,176 | 31,831,453 | 762,765 |
| wa3test.troy.edu | 80 | 26 | 12,115 | 84 |
E-mail
| | |
| --- | --- |
| Description | Total for 2011 |
| E-mail Messages In/Out | 113,587,000 |
| E-mail Viruses Blocked | 4,763 |
| Spam Blocked Due to Content | 93,470,000 |
Security
| | |
| --- | --- |
| Description | Total for 2011 |
| Server Vulnerablility Probes | 5,683,608 |
| Completed Security Investigations | 19 |
| Troy Electrical DR Tests | 7 |
Intrusion Prevention
| | |
| --- | --- |
| Description | Total for 2011 |
| Anonymous FTP Attempts | 484,318 |
| FTP: Bad Login Attempts | 3,114 |
| Spyware Blocked | 60,672 |
| Backdoor Trojan Attempts | 511 |
| Phishing Attempts | 330 |
| FTP: Root/Administrator Attempts | 1,747 |
| SSH Login Attempts | 564,642 |
Helpdesk Stats
Region

 

***Total***

Alabama Campus
 

7,550

 

Dothan

 

939

 
 

Montgomery

 

972

 
 

Phenix City

 

602

 
 

Troy

 

5,037

 
 

Unspecified

 

302

 

Atlantic Region

322

322

Southeast/Western Region

2,847

2,847

Pacific

39

39

eCampus
Blackboard
IT Department

1,274

1,274

Total

12,334

12,334
SOS - sos.troy.edu
| | |
| --- | --- |
| Category | Total for 2011 |
| System Notices | 19 |
| Safety Alerts | 20 |
Video Streaming
| | | | | |
| --- | --- | --- | --- | --- |
| Category | Events Streamed | Hits/Play | Minutes Viewed | Bandwidth Usage (MB) |
| Commencement | 2 | 313 | 10,040 | 30,833 |
| Convocation | N/A | N/A | N/A | N/A |
| Lecture | 1 | 560 | 16,947 | 41,114 |
| Other | 1 | 154 | 4,696 | 7,016 |
| Total | 4 | 1,027 | 31,683 | 78,963 |