IT Update
2nd Quarter 2014 Issue
A Message from the CTO:
IT continues to work hard to maintain a seamless infrastructure for all of Troy's needs. We hope you enjoy reading the IT Update.
The 2014 IT Summit approaches. Last year, hundreds of employees participated in the training event. This year, based on user comments, we will host the event in the late fall.  Once the schedule is available, dates will be published to http://itsummit.troy.edu.  In the meantime, please do not hesitate to send suggestions for training sessions.
Troy IT offers two major accountability solutions for support engagement: the helpdesk and ITAPS.  Use of the helpdesk has expanded beyond the traditional IT environment, now encompassing major service units of Troy.  The ITAPS (Information Technology Accountability and Planning System) is an internally-designed product, launched in 1999.  The environment displays all active IT projects, with project progress notations and a project subscription service.  Feel free to visit the planning site at http://itaps.troy.edu.
All employees with access to privileged systems will have to participate in annual security training in order to maintain access to the resources. The training will be exhibited at the IT Summit again this year, as well as online. Increasing security awareness among Troy's user community is a fundamental component in Troy's information assurance efforts - an aware user is the best resource for combating the scores of opportunities that exist for nefarious digital activities.  As part of the ongoing efforts to enhance security, Troy IT and a number of support offices are working on a consolidated identify management solution for all of Troy University.  The solution will provide a number of benefits to employees and students while fostering a more secure and accountable computing environment. 
A cross-discipline review team is evaluating new electronic messaging solutions.  The team began its work in May of 2014.  After forum discussions at the 2013 IT Summit, survey responses, Troy IT began soliciting potential vendors for a new electronic communications package for Troy.  Two vendors' products are being considered: Zimbra and Microsoft.
A diverse team developed the Faculty One-Stop website.  Visit the area, http://trojan.troy.edu/faculty/, send comments, suggestions as well.
As always, efforts to improve the web presences are underway. Some of the new enhancements are visible through the use of high-level aggregation sites. As an example, http://trojan.troy.edu is a collection point for the myriad of resources available to Troy's internal audiences, serving as a quasi-portal environment. A communications site, http://hermes.troy.edu, offers a quick and intuitive review of all of the major electronic communication systems offered by Troy University. Under development are new search tools, enhanced mobile presence and constituent-based portal solutions.
The portal project will launch in October 2014.  The solution will create constituent-based web workspaces.  Users will enter with unique credentials and experience an engaging, unique web environment, a wide collection of services will exist beneath the single login.
Please take a moment to visit the military and veterans support site at http://www.troy.edu/military/. Comments and suggestions are appreciated.
New technologies emerge constantly; contact IT if you need assistance in reviewing devices and/or software before purchasing.
Further development to the customer resource management solution has been exceptionally productive in the past few months. Review the update and contact IT if your support group has interest in participating in the solution.
In surveys and at the IT Summit forum, IT discussed the need for enhanced wireless technology at the Troy campus and the residential facilities.  Those efforts are underway – an implementation team will begin hardware installation in the coming weeks, upgrading nearly 600 Wi-Fi devices.
Other major projects include: deployment of Colleague Retention Alert, Ellucian Colleague Reporting and Operating Analytics package, an enhanced Technology Innovation lab and piloting Virtualized Desktop for academic labs.
As always, continue to practice safe computing habits: do not share login credentials or personal data via email, do not leave applications running on an unattended PC. 
Thanks.
W. Greg Price
---
University Wide News
EchoSign Workflow Development
As of August 2014, Troy University has twenty-one forms deployed through EchoSign. Fourteen of these forms are currently utilizing custom developed automated workflows. There are currently four forms in the development process and eleven forms in the review process. Since January 1, 2014, 17,271 forms have been processed through EchoSign.
Windows 7 Deployment
On 8 April 2014, Microsoft ceased support for Windows XP and Office 2003. Windows 7 Deployment project started January 2014 and was completed April 11, 2014 by the Troy, AL Technical Services division. Troy University maintains an immense inventory of computing devices. An audit was conducted, Technical Services upgraded roughly 1500 computers on the Troy campus.
Adobe Sales Meeting
On February 4, 2014, Technical Services participated in a meeting with Troy University's Adobe Representative and Sales Manager.   The meeting was to discuss changes within Adobe purchasing, licensing and contracts.
Digital Display Upgrade
On February 14, 2014, Technical Services assisted Howard Computers and Visix with the OS upgrade and install of four Visix players on Troy campus, which included, Adams Administration, Trojan Center and Shackelford Hall for the student dorms.  The displays will be used to broadcast weather, news, local emergency notices, university announcements as well as departmental announcements. 
Reviewing New Lenovo Laptops
The week of February 10, 2014, Technical Services evaluated two new Lenovo laptops which are the "L" versions.  These "L" laptops could replace the "T" versions if they meet all of Troy's expectations. The week of February 24, 2014, Technical Services completed the evaluation of the two Lenovo laptops which are the "L" versions and returned the units to Lenovo.  These "L" versions met all of Troy's expectations including a decrease in pricing.  After the evaluation and price considerations, the IT Department will post the "L" model laptops as the new standard laptops. The university will be saving roughly $175 per set by changing to the "L" models.
Docking Station for T540 laptops
The week of February 17, 2014, Technical Services tested a docking station designed for the new T540 laptop models. There was an issue regarding the monitors attached to the docking station involving random blank screens. After several conversations with Lenovo and thoroughly troubleshooting the issue has been resolved through a firmware update designed for the docking station. This solution will be vital and save countless hours of troubleshooting in the future, once the new line of laptops begin dispersing across campus.
Recycled Computers
The week of April 21, 2014, Technical Services continues to strive to reduce cost for Troy by recycling four old PC's to be given to various departments on campus.  The recycled PC's were retrieved from Asset Management, which consisted of the computer shell, spare parts from different units, and were combined to make a complete computer.  Next, the units were then imaged to Windows 7 operating system and setup to IT standards.  These recycled computers were used to help replace XP computers on campus.  
IT Active Directory Testing
The week of May 5, Technical Services continued to test the Active Directory environment in the stationary testing area. On May 8, AD was tested live with IT staff and the IT lab.  No major issues were discovered, therefore the plan was expanded to eTroy building.
Zimbra Trial for Email System
On April 15, 2014, Technical Services participated in WebEx session with Zimbra officials to answer questions concerning the trial of a possible new email system Zimbra. On May 29, 2014, Technical Services participated in a meeting with Zimbra officials to answer questions concerning the software and some of the features of possibly a new email system Zimbra.  
Student McAfee 8.8 Installs
The week of June 9, 2014, Technical Services tested a new McAfee 8.8 install version for students that will reside on the Troy campus and will be for Windows 7 and Windows 8 environment. Once the install package has been finalized, instructions and the package will be placed on IT website. This will be introduced to students in the upcoming IMPACT sessions.
Athletic Training Lab
On April 9, 2014, Technical Services completed three computer setups for the Athletic Training Lab.  Included in the setup was McAfee, Office 2013 and Deep Freeze configuration.
IMPACT
The week of June 2, 2014, Technical Services was prepared and conducted IMPACT sessions in June and July, 2014.  These informative sessions was directed for incoming freshman advising them about the services Information Technology provides while they are students at Troy.  Some of the information we are providing includes how to submit a helpdesk ticket, Troy's communication methods, software, security and networking.
Security Audit
The week of July 28, 2014, Technical Services began a Security Audit on several departments throughout the campus. By conducting the audit, we are ensuring that employees are following best practices and keeping sensitive data safe as possible.
Adobe Review
The week of July 7, 2014, Technical Services worked with Adobe representative to be in compliance for an Adobe Audit.  The audit was to survey a specific amount of Troy campus computers to collect data pertaining to the Adobe License Management Program.
Symantec Encryption Software Review
On July 24, 2014, Technical Services participated in a meeting with Symantec representatives to discuss the encryption software for Troy University.  The meeting consisted of the data encryption requirements, focus on data on the computers and answer any product or implementation questions that has surfaced. 
Project Management Review
The weeks of July 21 and 28, 2014, Technical Services participated in an online WebEx session with Zoho to review the software and if deemed appropriate for Troy University.  On July 28, 2014, an online 30-day testing account was created with Basecamp to further Troy's review of Project Management reviews.
Football
IT has tested the connectivity for the Wireless Ticket Scanners over at the Football Stadium.  This service will be available for usage for the home games in Troy.
WiFi
IT is currently evaluating enhanced WiFi to the latest technology 802.11AC.  Vendors have sent evaluation equipment and comparisons are being generating along with list of issues associated with a particular vendors product.  This particular upgrade will provide Gigabit Wireless to all current areas where wireless coverage currently exist.
---
Academics Division
Networking
Wireless Enhancement for Apple Teaching Product
Another access point has been added to an area of Sorrell Hall that will be used for new teaching technology utilizing the Apple TV.  This product will mimic the technology setup in Hawkins Hall based on information shared between the schools of Education and Mathematics.
Newer Teaching Product
IT has activated network connectivity for a Microsoft enabled Surface device for the College of Education to utilize in Hawkins Hall
Technical Services and eSystems
MSCX Classroom 114
Technical Services assisted Howard Computers with the install of a new technology classroom.  The install included Spectrum Media station, which will house a Crestron DMPS system, ceiling speakers, projector and screen, along with two 50" TV's to enhance the students effectiveness.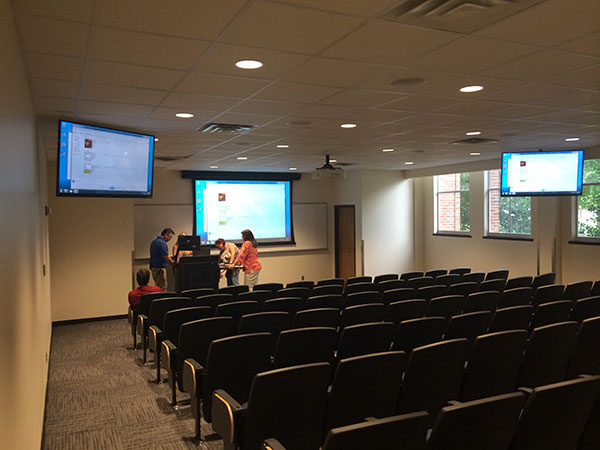 Academic Lab Upgrades
Technical Services completed upgrades of the Biology, English, and Malone Hall labs.  Upgrades consisted of upgrades from XP to Windows 7 operating system, IT setup procedure, and Deep Freeze software configuration.
Long Hall Construction
Technical Services met with staff of the Music Department and Howard Computers engineers to demonstrate equipment in the Band, Choral and Dance rooms. Instructional guides will be provided to staff and in the rooms.
Long Hall
During the first quarter of 2014, Technical Services assisted Howard Computers and Visix with the install of two additional digital displays for Long Hall, installed two larger TV's in the Band Room to enhance better viewing and the install with an analog mixer and moving the amplifiers from the Crestron to another location to help with sound quality.  The displays will be used to broadcast weather, news, local emergency notices, university announcement as well as departmental announcements. 
Confucius Institute Conference Room
The week of July 21, 2014, Technical Services assisted Howard Computers with the install of a large TV, speakers, microphones and a camera system in the Confucius Conference Room.  The technology will enhance the meetings within this room with state of the art technology experience during web conference meetings around the world.
Portable IT Training Site
Technical Services set up a portable training site for 85 end-users to participate in upcoming Recruiter training. 
Global Conference Room
Technical Services assisted Howard Computers with the install of a larger TV for the Global Conference Room in Adams Administration Building.  The technology will enhance the meetings within this room with state of the art technology experience during web conference meetings around the world.
Sorrel College of Business (Phenix City)
IT has upgraded Microsoft Office 2010 to Office 2013, and installed testing software in a computer lab for the Sorrell College of Business to allow students to complete the Microsoft Office Excel Specialist Exam. IT worked with the Sorrell College of Business to upgrade classroom technology in Adams 218 (Phenix City) to create a model classroom, in an effort to preview technologies that will used in the new building being constructed on the Phenix City Riverfront.
Montgomery Upgrades
Montgomery IT recently reassessed and updated 80 School of Nursing Testing computers and wireless access points. Montgomery IT recently upgraded 63 computers to Windows 8.1pro and Office 2013 for use with the MyItLab Software.
Montgomery Lecture Capture System
Montgomery IT assisted in the install of the first Lecture Capture system on the Montgomery Campus.  The SCOB will use the equipment to capture and upload lectures to the internet that student can access at any time.  The Montgomery IT staff along with staff from the Troy IT department recently attended training for the system.
---
Advancement & External Relations Division 
Networking
Recruiter VPN Access
Continued work on VPN accounts for addition and removal for recruiters in the field and looking into issue with SER on disconnects for recruiters at SER locations and what can be done to reduce and/or eliminate those.
Bandwidth Upgrade for Development
IT has now completed work with a local company to provide the Development Center with faster Internet services along with porting all traffic thru the Troy, AL campus site first via an encrypted tunnel.
Systems
Portfolio
Portfolio is a digital asset management tool that centralizes into libraries for quick search and sharing.  Systems worked with University Relations and consultants with implementation and onsite training which was completed mid -April
Technical Services and eSystems
Social Media Sanctioning Form Workflow Development (University Relations)
During May 2014, eSystems began development of an EchoSign workflow for the Social Media Sanctioning Form. The form, workflow, and splash page has been created and the development of the workflow has been started.
Web
Alumni Affairs Digital Campaign Materials (Trojans One and All)
The Alumni Affairs department has requested assistance from IT in the deployment of digital materials for an upcoming Trojans One and All fundraising campaign. IT has communicated with Alumni Affairs and is also working in collaboration with a third-party ad agency that is handling the design and management of the campaign. Assistance from IT is required for the creation of a web page, which will be designed and provided as a graphic by the third-party. IT staff will also receive an HTML e-mail template from the third-party and integrate the design as a template within ExactTarget.
Prospective Student Referral Landing Page/Form
Marketing and Communication has requested the development of a form that will capture data for a prospective student referral campaign that will be launched early this fall. IT has requested and received related imagery, which is being integrated into a Web form that is currently being developed by IT staff.
WWW Template/Migration Project
In collaboration with Marketing and Communication, IT staff have designed, developed, and tested a new template for the www.troy.edu website. The improved template will add mobile support by using a responsive design. Additional functionality and simplified navigation will be applied during the template upgrade. A significant component of this project also involves the migration of specific web content from the trojan.troy.edu website over to www.troy.edu, in preparation for the Portal project. Application of the new template will begin the week of August 11th, with pages on www.troy.edu being updated individually. During the initial update phase visitors may see the new and old templates when navigating between pages.
---
Finance & Business Affairs Division
Datatel
Student Self Service Finance View
A recent upgrade to Trojan Web Express offers new features and enhanced interaction to your online student services portal. Specifically, in the area of Finance, a more concise, user-friendly billing statement and streamlined payment process are present.  Additional features include: detailed, itemized bill presentation, prior term bill review, detailed financial aid options, payment details and local print function of billing statement. Troy University continues work to develop a more interactive online student services experience. Efforts to add more features are underway. Please visit Trojan Web Express now to review the enhanced functions.
Operations
Construction
Whaley has completed their construction of the back parking lot and brick façade. We are waiting for Harris to install card readers and arms for the gates.
Fire Inspection
The annual fire suppression system test and fire system test have been completed without issue.
Electrical Upgrade
The project has been bid out to Advanced electric, we are waiting a start date.
UPS Notification Improvement
Attached to the upcoming electrical upgrade, is a project to run two wires between our electrical transfer switch to the UPS systems. This should allow emergency response team members to receive a notification every time the UPS system swaps from utility power to generator power.
Cameras
IT will be upgrading the CCTV system, replacing Harris Security in August.
Drills
IT is currently planning out emergency drills. Once construction is complete we will complete a fire, tornado, and possibly active shooter drill. We anticipated for this to take place in June, but due to delayed construction. We are looking into September.
Networking
TransAct (TrojanCard) Upgrade
Blackboard Card Management System Upgrade:  IT has completed the upgrade to the TrojanCard and eAccounts system to the latest version and it will also afford students a way to check their balances online now.
Inventory
Continuing to work on inventory in updating current list for all Troy IT inventory of products in relation to capitalized equipment, re-organizing categories, standardizing on product, and completing the additional information fields as required by Asset Management.  Current inventory list is due to Asset Management on August 11th, 2014.
Systems
Recruiter
Migrated database from test to production and upgraded the Recruiter application software to the latest version.
Recruiter Test Servers
Installed and configured the Recruiter software on the test servers. Cloned the Live Recruiter data to the Test system. 
Technical Services and eSystems
WebEx
eSystems has been trained and is now taking over creation of new WebEx accounts. Technical Services will now be conducting WebEx training and installation. The end-user will be given a user guide to keep on hand as well as hands-on instructions and a demo of the product. On July 23, 2014, Technical Services and eSystems met to discuss new WebEx features, walkthrough the solution, and begin updating the WebEx user guide. On July 25, 2014, eSystems finished updating the WebEx user guide. eSystems also attempted to record the WebEx training video, however due to issues with the conference room camera eSystems was unable to complete the recording. During the month of July, four WebEx accounts were created.
Adjunct Contracts Spring and Summer 2014 (Payroll Services)
MegaSign processors continued processing adjunct contracts for Spring 2014 and Summer 2014. Assistance has been given to the processors when requested. Weekly reports are being ran and sent to Payroll each Monday and as requested. In an effort to increase the percentage of signed contracts, eSystems has begun sending the processors a report notifying them of the contracts they still have out for signature.
Application for Travel Approval Workflow Development (Travel Center)
eSystems continued working through limitations that have been encountered with the Application for Travel Approval. Progress has been made on the global campus signer issues and a mockup of the splash page is being created for approval before development begins.
Stipend Request Form Workflow Development (Human Resources)
During May 2014, eSystems began working with HR to develop a workflow for the Stipend Request Form. The development of the workflow was completed June 18, 2014 and the workflow has been released for University consumption.
Montgomery Administration Computers/Systems
As part of the effort to integrate all of the Troy University networks Montgomery IT recently converted its entire network. Montgomery IT recently replaced 15 administrative computers and laptops.
Web
Faculty One-Stop
IT has worked with the Registrar's office to develop a faculty-centric page referred to as the Faculty One-Stop. The page features direct links to commonly accessed faculty resources as well as important information and dates. Development of the page is nearly complete. It will be launched as soon as a final review has been completed.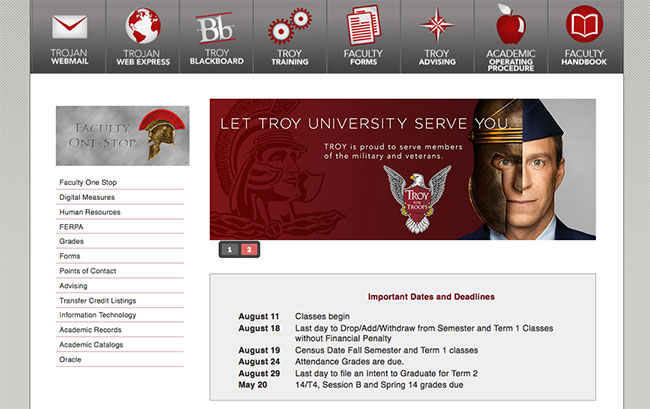 ---
Student Services and Administration Division
Datatel
Trojan Web Express Student Restrictions
Advisors may view a student's active restrictions using the My Advisees workflow on WebAdvisor, and end the restrictions for which the advisor has the appropriate authority.  Students may also view, but not modify, their restrictions.
Student Planning Implementation
Colleague Student Planning is a web-based solution that helps students clarify, plan and track their course of study in order to progress more confidently to a degree plan.  The solution also helps improve the quality of interaction between students and advisors, and enables institutions to map future course offerings more effectively.  The Top 10 Degree Programs will be implemented for Fall 2014 applicants.
Networking
Guest Internet Access
Guest Accounts Logins have been requested and issued to International Programs for incoming non-registered student that must participate in the ESL program before
Construction
Construction has begun on the new dormitory that is replacing Alumni Hall.  Blueprints have been received and equipment list are being gathered now for parts ordering for wired, wireless, laundry, and digital display units for the buildings.
Network Consolidation
Networking has now connected all Alabama and Georgia campus sites back to the Troy location via site-to-site encrypted tunnels.  This will allow passing of traffic back and forth securely and directly.
Wireless Controller Software Upgrades
IT has upgraded the dormitory wireless network controllers to the latest "Go-To" software version as per the vendors suggestion.  This is add some enhanced features that will be added in the coming weeks/months to the dormitory networks.
Systems
Student Self-Service
Live Self Service WFE – Installed and configured a server for the Live Self Service Website. Web API-Live –Installed and configured a server for Web-API production. Web API-Test – Reconfigured a server to be the Web-API-Test box.
PO to PDF process
As part of the University's 2015 Strategic Plan's paperless initiative, Systems worked closely with the Purchasing department to put in place a process to print purchase orders directly from the University's ERP system to PDF files.
TicketTrack
Cardinal TicketTrack software has been upgraded to the latest version.  Tickettrack is a parking ticket management and enforcement solution used by University Police.
eTroy Webserver
A new server was installed and configured for the eTroy web server.  
Marcom NAS
A drive on the Marcom NAS server failed and all parity information for the RAID array was lost causing a complete system failure. A replacement drive was placed into the system and RAID arrays were recreated. Diagnostics were ran against the server to ensure no other issues were present. All user data was restored from backup sets.
Technical Services and eSystems
ExactTarget Email
During the month of February, IT partnered with ExactTarget to 
replace the existing list management solution. The platform provides an interface to create email templates; the templates are dynamic, allowing for customized delivery to scores of different devices. On June 3, 2014, eSystems sent the first email through ExactTarget on behalf of Athletics. Since then, eleven emails have been sent through ExactTarget.
TrojanTXT
Currently, 3,108 students have signed up to receive TrojanTXT SMS messages. A total of six messages were scheduled for send.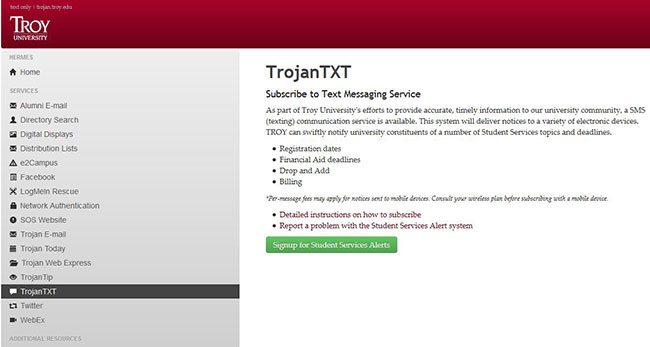 Transfer Scholarship Workflow Development (Admissions)
eSystems worked on the development of a form that can be used as an awards letter/acceptance form for the new Transfer Scholarship. The workflow has been completed and released to the Admissions Office for use.
Traffic Appeal Workflow Development (Student Involvement)
During May 2014, eSystems began working with the Student Involvement office to discuss the possibility of deploying the Traffic Appeal form using an EchoSign workflow. The workflow has been developed and we are currently awaiting SGA's approval to move the form to Live.
Master Course Form Workflow Development (IRPE)
During February 2014, eSystems met with Wendy Broyles to discuss the possibility of developing a Master Course Form that could be deployed through an EchoSign workflow. We received permission to deploy this form through EchoSign from Records, but met opposition from the academic councils and Wendy decided to hold off on the creation of a workflow for this form.
Course Substitution Form Workflow Development (Records)
During June 2014, eSystems met with representatives from Records to discuss the development of the Course Substitution Form to be used through an EchoSign Workflow. Development of the form and splash page has been started. Currently, the splash page and form is still in the development process.
Web
Career Services Website Redesign
IT staff have been working closely with Career Services to optimize and update content within the departmental website in order to better serve students. Significant work has been completed and the project is approaching its final stage prior to launch.
---
Statistics
| | |
| --- | --- |
| Time Period | Days |
| Since January 2014 | 14 |
Web
| | | | | |
| --- | --- | --- | --- | --- |
| Server | Average Hits Per Day | Unique Visitors | Successful Page Hits | Total Visits for 2014 |
| www.troy.edu | 24,262 | 1,673,402 | 5,143,576 | 3,193,148 |
| forms.troy.edu | 1,148 | 121,373 | 243,343 | 2,858,855 |
| it.troy.edu | 536 | 37,297 | 113,724 | 51,976 |
| trojan.troy.edu | 31,139 | 766,384 | 6,601,391 | 2,651,571 |
| trojanweb.troy.edu | 173,364 | 291,777 | 36,753,227 | 47,613,388 |
| wa3test.troy.edu | 135 | 97 | 28,651 | 32,778 |
| admissions.troy.edu | 3,893 | 208,675 | 825,217 | 290,827 |
| *recruiter.troy.edu | 5,052 | 46,072 | 616,388 | 87,686 |
* recruiter.troy.edu tracking begin April 1, 2014.
E-mail
E-mail Category

1/1/14 - 8/1/14 
(Incoming E-mail Filter)

1/1/14 - 8/1/14
(Outgoing E-mail Filter)

Totals for 2014

Virus Detected

3,502

114

3,616

Potentially Unwanted Programs

864

162

1,026

Compliance

40,165

299,694

339,859

Image Analysis

32

0

32

URL reputation

27,055

33,256

60,311

DLP

0

0

0

Spam Phish

3,777,610

5,494,265

9,271,875

Sender Authentication and Reputation

50,942,651

1,762,268

55,406,489

Unscannable Content

0

1,403

1,403

Other Detections

44,209

35,439

79,648

Monitored

261,414

94,788

356,202

Legitimate

7,543,903

4,098,246

11,642,149
Security
| | |
| --- | --- |
| Description | Total for 2014 |
| Server Vulnerablility Probes | 10,682,053 |
| Completed Security Investigations | 25 |
| Troy Electrical DR Tests | 11 |
Intrusion Prevention
| | |
| --- | --- |
| Description | Total for Quarter |
| FTP Attempts | 97,856 |
| Threats Blocked | 809,041 |
| Spyware Blocked | 445,083 |
| Viruses Blocked | 499,210 |
| SSH Login Attempts | 46,173 |
Helpdesk Stats (1/1/2014 - 7/31/2014)
Region

 

***Total***

Alabama Campus
 

12,394

 

Dothan

 

1,150

 
 

Montgomery

 

1,547

 
 

Phenix City

 

642

 
 

Troy

 

8,655

 

eTroy

2,611

2,611

Atlantic Region (Troy Assist)

8

8

Global Campus

3,209

3,209

Pacific

97

97

Region Not Specified

745

745

Total

19,149

19,149
Knowledgebase Usage Report (1/1/2014 - 7/31/2014)
| | |
| --- | --- |
| Articles Viewed | 3,969 |
| Searches Performed | 984 |
SOS - sos.troy.edu
| | |
| --- | --- |
| Category | Total for 2014 |
| System Notices | 53 |
| Safety Alerts | 11 |
Video Streaming
| | | | |
| --- | --- | --- | --- |
| Category | Hits/Play | Minutes Viewed | Bandwidth Usage (MB) |
| Troy Campus Spring Commencement (05/09/2014) | 1,995 | 42,432 | 128,531.63 |
| Troy Campus Summer Commencement (07/25/2014) | 771 | 15,667 | 47,767.85 |
| Montgomery Campus Summer Commencement (07/28/2014) | 180 | 2,508 | 7,001.22 |
| Faculty/Staff Convocation (08/08/2014) | 518 | 20,778 | 59,817.31 |
| Total | 3,464 | 81,385 | 243,118.01 |