IT Update
1st Quarter 2015 Issue
A Message from the CTO:
I appreciate your attendance at the IT Big Data Summit in the fall of 2014.  During the event, we received valuable input into a topic that IT considers incredibly important: data-based decisions.  Through your guidance, we began a series new efforts to better focus our data management solutions.  A major component of the effort is a reporting and operational analytics solution.  We refer to the product as D.I. (data insight).  The large data analytics, predictive modeling tools will launch in May 2015.  The days of queries, reporting and construction of ad-hoc data silos will disappear quickly as D.I. emerges.
How will D.I. promote nimble, data-based decisions?
Five constructs guide D.I.
First, we have a lot of data, true, very true.  But size, volume only matters to a point.  Variety is the key differentiator, what matters most.  If you're looking at the same reports, at the end of the month, after activity has occurred, you are not data-driven.  Your approach is static, reactive and lacks diversity.  Our D.I. products aggregate data from scores of sources, presenting more insight into operations.
Second, most have access to some data.  Policy, regulations, law, best practices prevent a single data owner, a single pane into all of the operational data within a culture.  Privacy is paramount and we will not sacrifice data security.  Data-driven environments develop clear operational processes to address data ownership, security and avoid stunting development due to necessary control.  D.I. remedies the access issues and adheres to all policies.
Third, data is everywhere.  Many envision organizational data as a well-maintained library.  Such operations are rare.  New developments within TROY, centralization of data stores, reduction in ad-hoc repositories, less reliance on hosted third-parties and outdated solutions have contributed to a reduction in data sprawl.  Our data is in focus, clearly visible.
Fourth, data insight requires robust tools and the knowledge to use them.  Our D.I. platform is built on an architecture that is varied and flexible.  The TROY IT staff have trained, designed and engineered the D.I. solution from the ground up.
Fifth, data flows in all directions: up, down, side to side.  Data-driven decisions and predictive tools will empower users to communicate rationale and motivate action.  TROY D.I. will foster a deeper understanding to WHY.
Look for the announcement of the tools.
In the ever-changing landscape of the Web, many changes have occurred and major debuts are just around the corner.
TROY IT and Marketing developed a new, responsive design for www.troy.edu.  The new design launched in the fall of 2014.  The updated design exhibits a cleaner, less restrictive design for all mobile devices, despite end-user device.
IT has been working through a redeployment of the TROY intranet through the TROY Portal.  Additionally, a new version of the TROY mobile app will launch soon.
The Portal will provide a unique digital workspace for all TROY constituents.  The site will aggregate numerous web services into a single pane.  The deployment of the new Active Directory structure in the past few months is the foundation for the Portal effort.  With single-sign on, TROY IT will eliminate userids and passwords across the majority of the core systems.  Portal will exhibit a myriad of tools under a single electronic footprint.
The new mobile APP from IT will replace the aging MOX product.  The new tool is designed around input from student, faculty and support staff focus groups.  A wide-variety of administrative and academic processes will be accessible through the new APP.
A collaboration with the TROY library is nearing completion as well.  TRI (Troy Research and Innovation lab) will host tools for faculty, staff and students.
TROY IT appreciates your assistance with all projects and looks forward to the new deliverables.
As always, remember to practice safe computing habits and don't hesitate to contact IT.
Thanks.
-Greg
---
University Wide News
TROY Mobile APP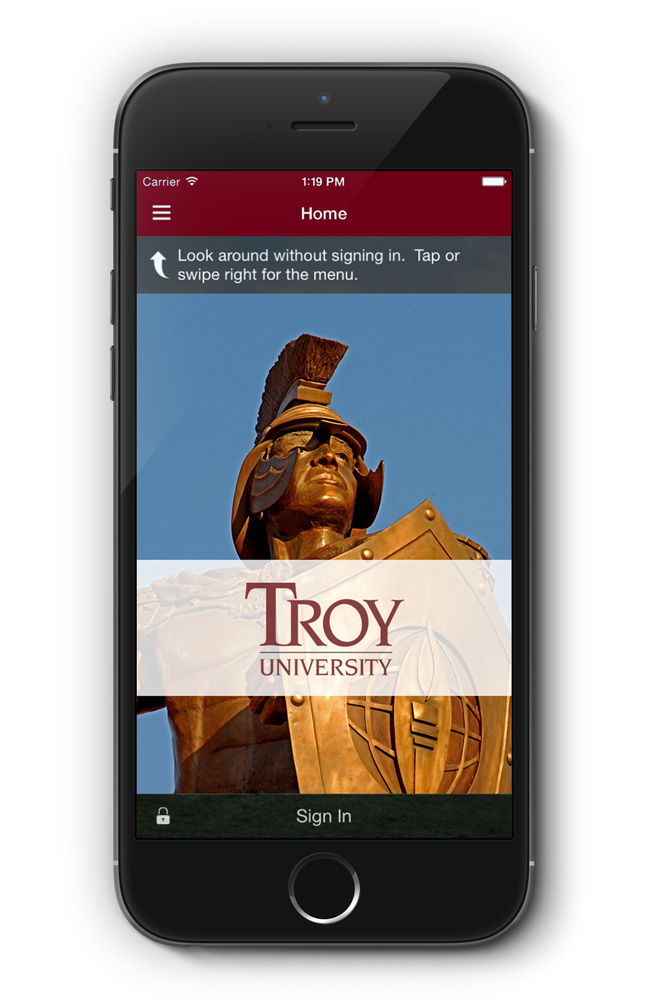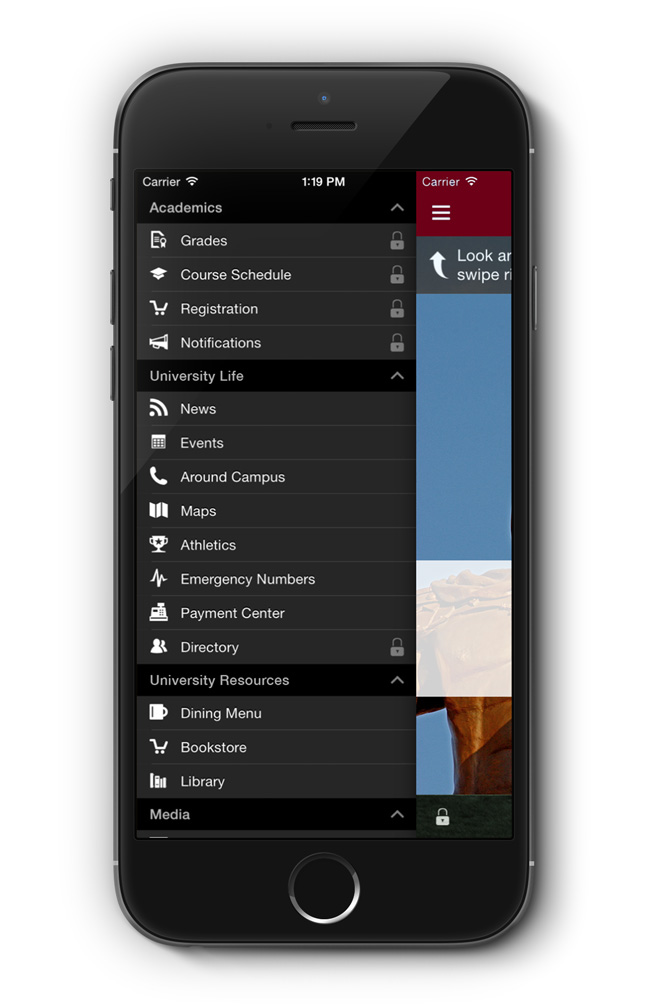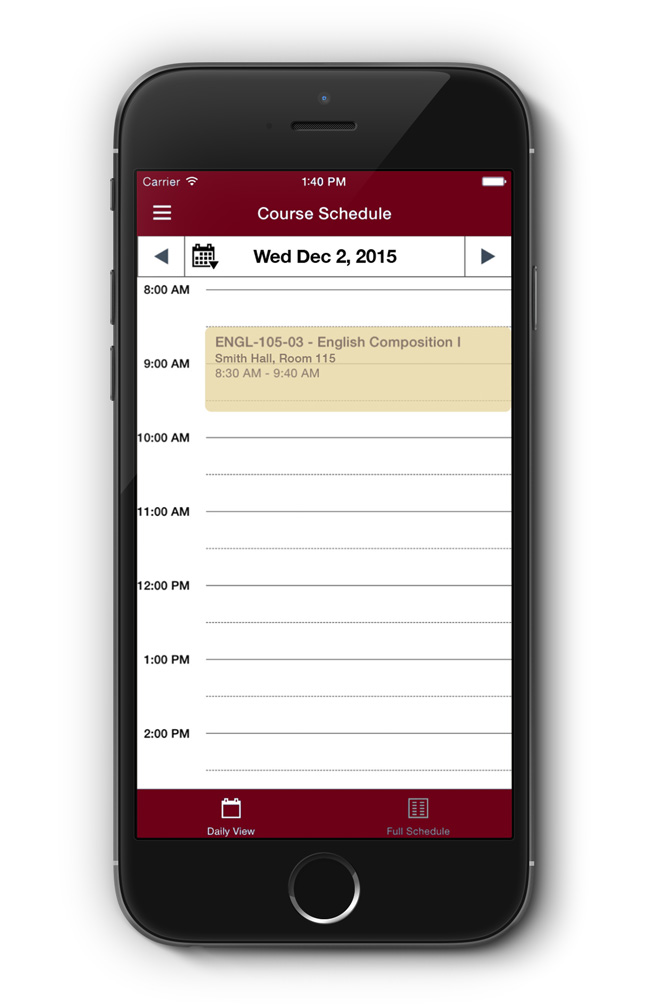 TROY Portal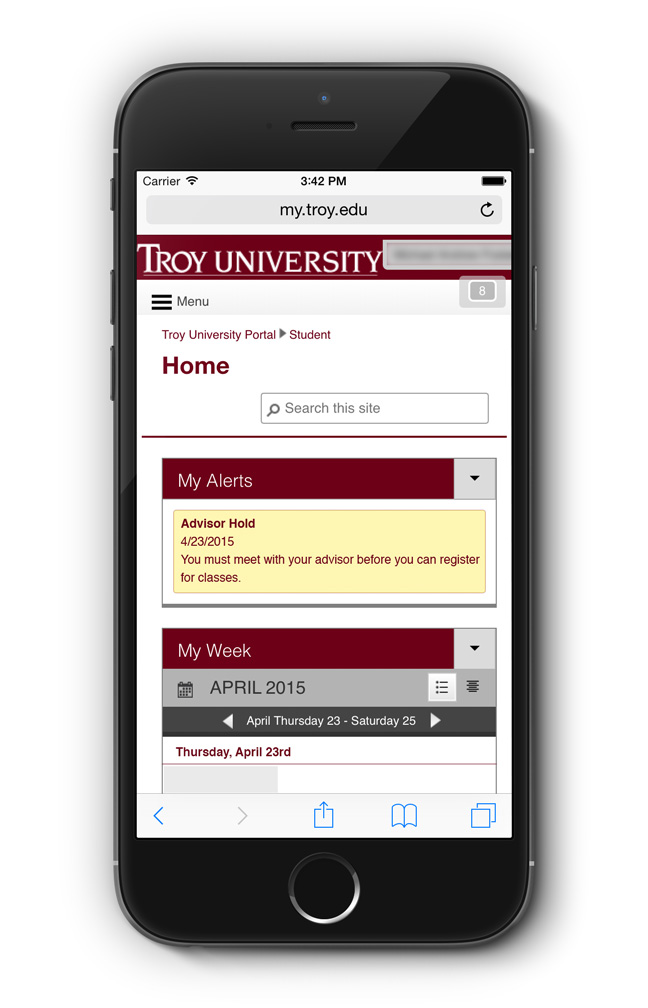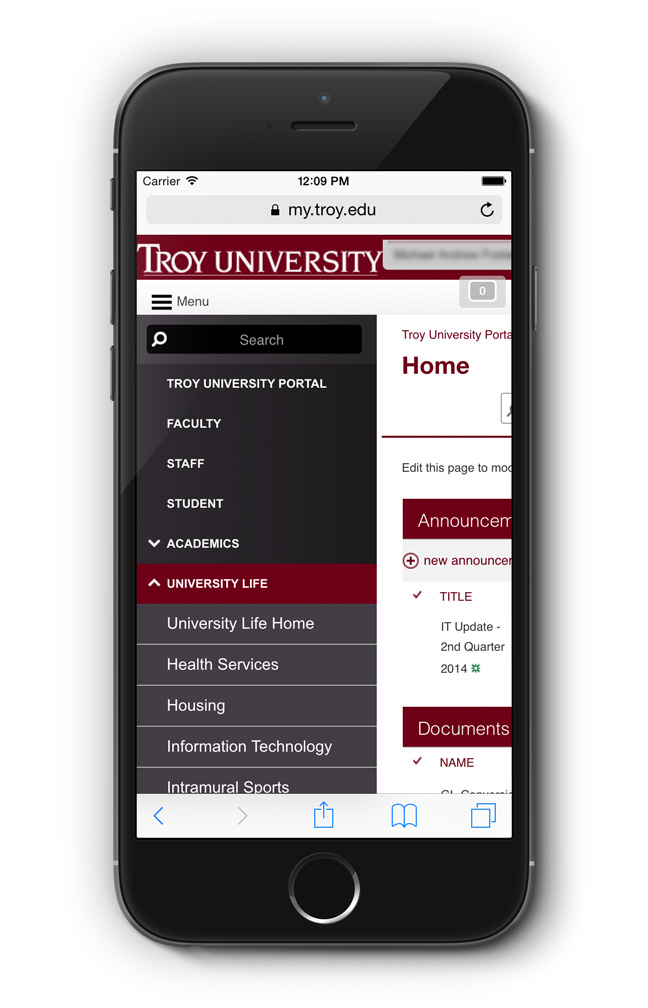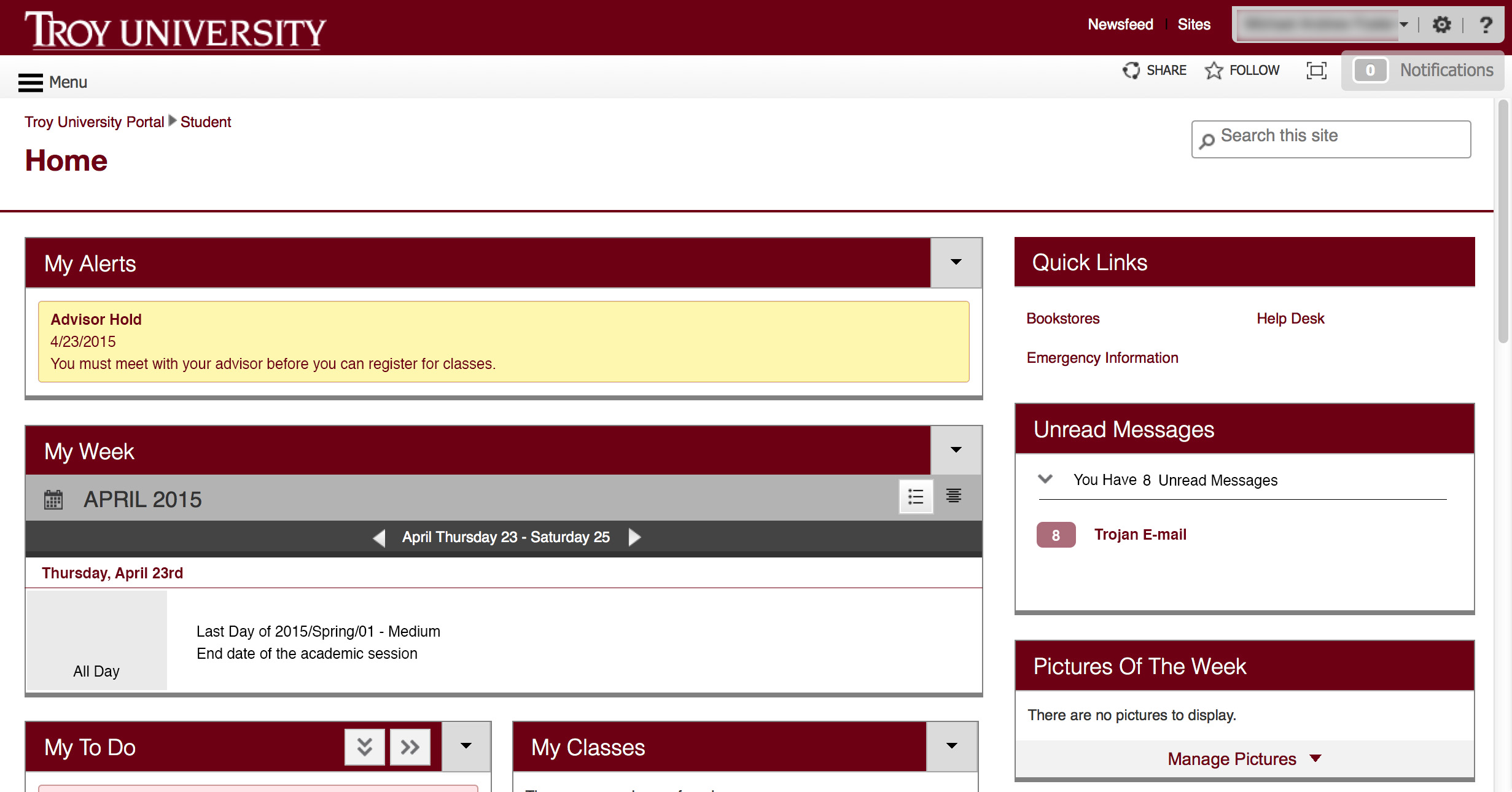 www.troy.edu Mobile/Responsive Design
Last fall the IT department designed and deployed a new template for the www.troy.edu website. In addition to a design update the new site is now mobile-compatibile via responsive design, which adjusts the site based on the display that a visitor is using. For example, a visitor using a mobile phone will see a different layout than somone that is using a desktop or a laptop.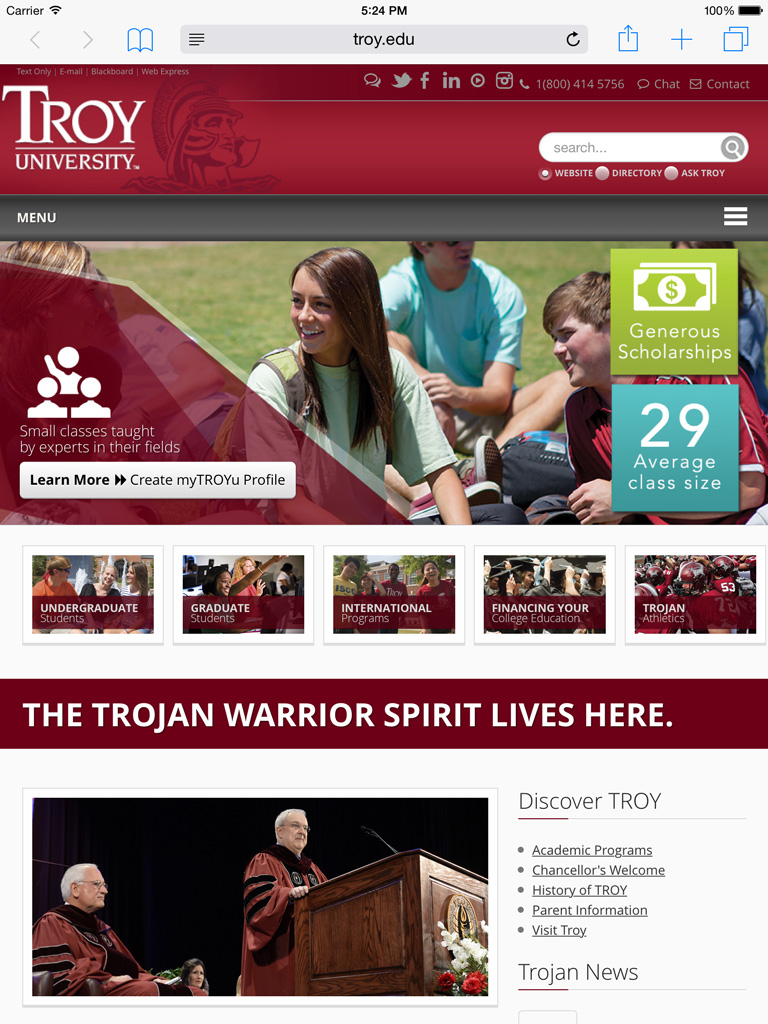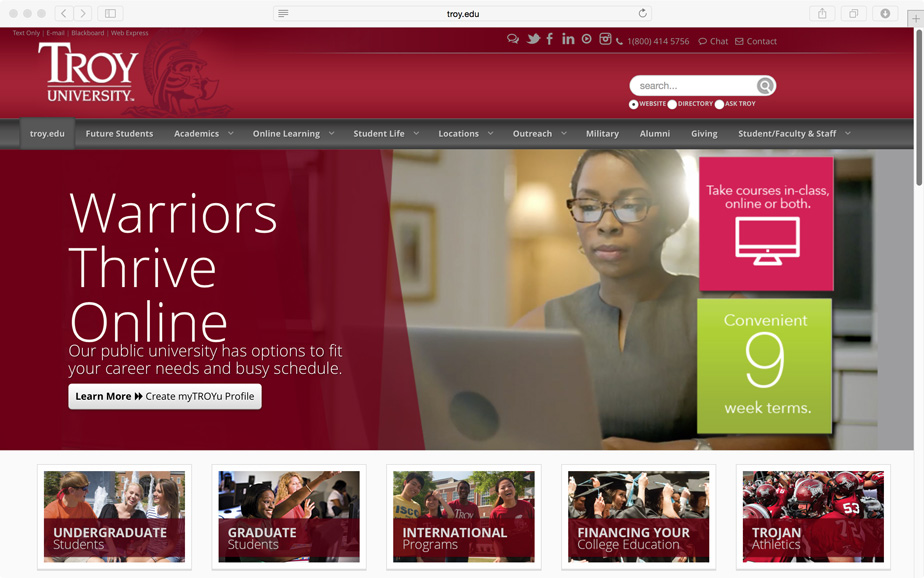 Active Directory
Troy IT has completed the migration of 1,200 devices to the Directory (AD) environment for Troy University.
The migration of end-user devices to Active Directory is the first step in an engaging project that will support single sign-on, uniform user credentials, centralized identify management, web portal, network on-boarding and much more.
Additionally, the centralized identify management product will allow TROY to participate in scheduled password changes; our current efforts regarding password hygiene are effective, but, lack cohesion among our many services.  IT will publish the new password management practices on the IT website once the AD project migration is complete.
This large IT project is a key element within the IT Innovation web presence.  Please visit http://it.troy.edu/innovation/index.html for more information on the effort – keep in mind, as with any new approach, the innovation site will change frequently.  Remember to visit often for updates.
EchoSign Workflow Development
As of April 2015, Troy University has twenty-eight forms deployed through EchoSign. Twenty-two of these forms are currently utilizing custom developed automated workflows. There are currently ten forms in the development process and twelve forms in the review process. Since January 1, 2015, 11,749 forms have been processed through EchoSign.
New NAS Shares
Four new servers were setup and configured for migrating shares from outdated hardware.
NAS Migrations
Migrated five departmental NAS devices to new hardware.
McAfee Scan Box Upgrade and Migration
Two new McAfee scan appliances were upgraded to the latest software and installed; replacing outdated hardware.
Email Purge
A purge of stale accounts were executed on the mail server to free up storage space and licenses.
ADFS Servers
Four new servers were setup and configured for AD authentication.
Global Open House Registration
A new registration system was developed for Global Open House.
Year End Processes
Completion of year end processes: W2's, 1099's, 1098's, IPEDS Reporting, and IRS Reporting.
---
Academics Division
Technical Services and eSystems
TRI Lab
IT is pleased to announce the launch of a new offering: the TRI Lab, Troy Research and Innovation lab.  In cooperation with Troy University Libraries, IT will launch a physical presence; the lab will be housed on the 2nd floor of Wallace Hall Library in Troy, AL.  In the Innovation Lab, student and faculty will have the opportunity to interact with a wide-variety of new technologies, collaborate on projects or work independently on research.
The TRI-lab's approach differs from that of other university labs, operating model, and governance. First, it accepts any student from any Troy college with any idea, fostering cross-disciplinary, cross-university collaboration. The i-lab resources support student ventures spanning art, entrepreneurship, health and sciences, technology. Second, it is student centered and faculty enabled, with programming supplied by the Information technology department to help students take their ideas as far as they can go. Third, the i-lab serves as a new model for university collaboration among all disciplines.
TRI Facility Facts
The TRI-lab consists of nearly 800 square feet of space, with more than 5 collaboration stations, most with projection capability, whiteboard walls, and a snacks and drinks area.  There will 2 additional meeting/video conference suite on the 1st floor in the coming months as well.
The lab will house over $50,000 worth of technology donated by Troy University's technology partners. Current partners include Howard Technology, Epson, Kyser Furniture, Okidata, Lenovo, AxisTV, Spectrum, Crestron, and Dalite.  The design and donations were acquired by the Troy, AL Technical Services division.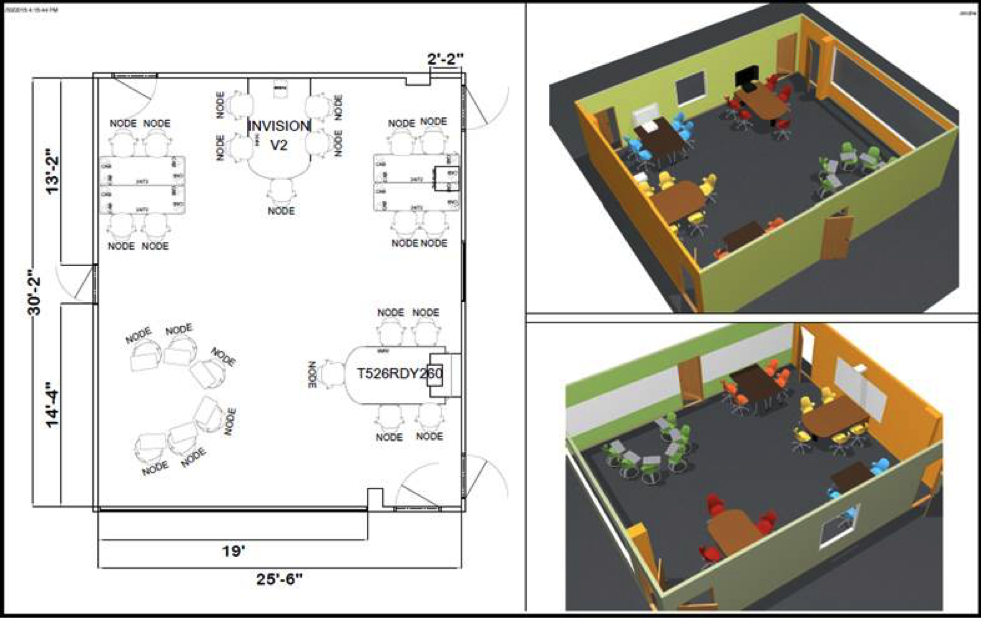 ---
Advancement & External Relations Division
Web
Migration of admissions.troy.edu Content to www.troy.edu
Marketing and Communications and Admissions have elected to move the content currently located at admissions.troy.edu, a stand-alone website, into the www.troy.edu website. The IT Web Division has met with both parties several times to discuss the plan for migration. The process requires that some content is moved into different parts of the www.troy.edu website, while other pieces will be maintained in their current form at http://www.troy.edu/admissions/. When this process has been completed the admissions.troy.edu website will serve as a redirect to this new area on www.troy.edu. The changes will be deployed by the end of April.
---
Finance & Business Affairs Division
Technical Services and eSystems
Adjunct Contracts Spring 2015
MegaSign processors continued processing adjunct contracts for T4, T5, and Spring 2015 . Assistance has been given to the processors when requested. Weekly reports are being ran and sent to Payroll each Monday and as requested. In an effort to increase the percentage of signed contracts, eSystems has begun sending the processors a report notifying them of the contracts they still have out for signature.
Application for Travel Approval Workflow Development
During February 2015, eSystems deployed an electronic version of the Travel Approval form. University employees can now complete and sign their Travel Approval form electronically. The form is then routed to the specified approvers for approval. Since it's deployment, 1,752 forms have been processed using the automated workflow.
---
Student Services and Administration Division
Datatel
Student Planning Implementation
Colleague Student Planning is a web-based solution that helps students clarify, plan and track their course of study in order to progress more confidently to a degree plan.  The solution also helps improve the quality of interaction between students and advisors, and enables institutions to map future course offerings more effectively.  Pilot groups registered for Summer and Fall 2015. Full implementation with IMPACT sessions for Summer 2015.
Systems
Housing Web
A new server has been setup and configured for Housing to serve the Housing web application.
Technical Services and eSystems
ExactTarget Email
IT provides ExactTarget Email as a way to send out mass emails to University constituents. Currently there are 7 departments utilizing this solution with 72 unique emails being sent out during the quarter, with a total of 303,161 individual emails.
TrojanTXT
Currently, 3,307 students have signed up to receive TrojanTXT SMS messages.

---
Statistics
E-mail
E-mail Category

1/1/15 - 2/1/15 
(Incoming E-mail Filter)

1/1/15 - 2/1/15
(Outgoing E-mail Filter)

2/1/15 - 3/1/15
(Incoming E-mail Filter)

2/1/15 - 3/1/15 (Outgoing E-mail Filter)

3/1/15 - 4/1/15
(Incoming E-mail Filter)

3/1/15 - 4/1/15
(Outgoing E-mail Filter)

Totals for Quarter

Virus Detected

99

175

62

4

104

73

517

Potentially Unwanted Programs

79

0

82

0

16

0

177

Compliance

2,255

1,885

9,759

658

10,900

2,904

28,361

Image Analysis

0

0

0

0

0

0

0

URL reputation

23,480

1,257

5,259

444

8,056

3,424

41,920

DLP

0

0

0

0

0

0

0

Spam Phish

671,218

50,088

375,010

24,841

476,272

40,872

1,638,301

Sender Authentication and Reputation

3,167,625

11

5,119,951

70

5,906,400

3,290

1,4197,347

Unscannable Content

1

0

0

0

0

0

1

Other Detections

1,797

8

615

6

331

2

2,759

Monitored

294,029

0

83,557

0

80,710

0

458,296

Legitimate

2,426,824

0

2,208,075

0

2,425,350

0

7,060,249
Intrusion Prevention
| | |
| --- | --- |
| Description | Total for Quarter |
| FTP Attempts | 89,300 |
| Threats Blocked | 919,582 |
| Spyware Blocked | 223,724 |
| Viruses Blocked | 237,786 |
Helpdesk Stats
Region

 

***Total***

Alabama Campus
 

7,064

 

Dothan

 

963

 
 

Montgomery

 

790

 
 

Phenix City

 

327

 
 

Troy

 

4,984

 

eTroy

1,440

Atlantic Region (Troy Assist)

12

Global Campus (SER)

1,581

Pacific

36

Not Specified

355

Total

10,488
Knowledgebase Usage Report (1/1/2015 - 4/23/2015)
| | |
| --- | --- |
| Articles Viewed | 2,158 |
| Searches Performed | 975 |
| Total Times Rated | 38 |
| Times Rated Helpful | 11 |
| Times Rated Not Helpful | 27 |
Deflected Tickets Report (1/1/2015 - 4/23/2015)
| | |
| --- | --- |
| Tickets Started | 9,750 |
| Tickets Deflected | 2,327 |
| Percent Deflected | 23.9% |
Download Usage Report (1/1/2015 - 4/23/2015)
| | |
| --- | --- |
| Download Searches | 0 |
| Downloads Requested | 0 |
| Downloads Served | 32,092 |
| Download Throughput (MB) | 428.09 |
Customers Report (1/1/2015 - 4/23/2015)
| | |
| --- | --- |
| New Customers | 1,899 |
| Total Customer Count | 49,414 |
| Growth | 4.0% |