Welcome Back!
Welcome to 2021! We hope you had a safe and healthy holiday. Take a moment to review some of the enhancements and new service offerings we've been working on.

Dr. Greg Price, CTO
QLess
In the coming weeks, students will be able to join a virtual queue to visit the Troy Campus Financial Aid office. Wait wherever you want and receive text messages letting you know your estimated wait time and when you have reached the front of the line. Once you have reached the front of the line, you can return to the Financial Aid office to visit with an advisor. You will be able to join the line using a kiosk that will be located in Adams Administration or from the Financial Aid webpage using any computer or mobile device.
Network Enhancements
Several enhancements, including upgraded VPN and WiFi, have been deployed in various areas of the Troy Campus. Some outdoor WiFi enhancements have also been made at the Troy, Dothan, Phenix City, and Montgomery campus locations in case faculty, staff, or students need WiFi access and are not comfortable entering buildings.
Bandwidth Enhancements
Both Primary and Backup Internet connections at the Troy Campus were upgraded from 1 Gbps to 2 Gbps capacity, thus doubling the available bandwidth for in-class and online teaching.
Microsoft Teams
Microsoft Teams has recently received a host of new updates. The biggest of them is the long-awaited Breakout Room feature. You can now create and edit breakout rooms while in meetings. The organizer can move people as needed and send groups out to their small groups as well as call everyone back when it is time. This feature will be covered in the upcoming Teams training on the 14th. Other new features include the ability to pin comments within Teams, and new duration options for Do Not Disturb. 
VPN Multifactor Authentication Notice
If you purchase a new mobile device and have the VPN mobile token, you will need to enter a Helpdesk ticket to get assistance with migrating it to the new phone. Users are not allowed to transfer the MFA for VPN themselves.
Office 365 Authentication Notice
Don't get locked out of your email. Before switching to a new phone make sure that you update your contact info in your O365 profile. You can easily check and update your information by visiting https://myprofile.microsoft.com/ and clicking on the Security Info tab. Otherwise, you will need to enter a Helpdesk ticket to get assistance in regaining access
Transact Mobile Ordering
Working collaboratively with Auxiliary Services and Food Services, a new experience will debut soon. The Transact Mobile Ordering project provides students the best contactless method for remote ordering and payment of their meals at Sodexo dining facilities. Students download the mobile order app to their cell phone and search for the restaurant they want to order from. When the order is placed and paid for, the student is given a time to pick up their order. This project is approximately 90% complete with placement and testing of the equipment at each restaurant location pending. Students can expect Transact Mobile Ordering to be available in mid-January 2021.
Adobe Flash Retirement
In December of 2020, after 20 years of service, Adobe has retired Flash Player. Flash has been replaced by more modern and secure solutions such as HTML5.  As such, Troy IT undertook a project to remove all versions of Flash Player from Microsoft Windows-based devices. 
Respondus Lockdown Browser Extension for Chromebook
We are pleased to announce that the Respondus Lockdown Browser Extension for Chromebook in now available to students. Students will now be able to use their Chromebook to complete quizzes in Canvas that require Respondus Lockdown Browser or Respondus Monitor. This is the beta version, which will only work with quizzes an instructor has enabled for use with the Lockdown Browser for Chromebook.


Documentation on enabling the option for quizzes in Canvas (faculty) and how to install the extension in Google on your Chromebook (students) can be found at the following links.


Turnitin Plagiarism Framework (Instructor)
Turnitin Plagiarism Framework allows any Canvas created assignment to be reviewed for plagiarism. It streamlines the grading process by allowing the Turnitin Similarity Index for a student's submission to be accessed via Canvas SpeedGrader and Gradebook. Instructors can also allow students to submit multiple files for a single assignment with each file being analyzed by Turnitin. All features and functions are available directly within Canvas, with no need to log in separately at Turnitin.com.
Financial Aid Chat Bot
The Financial Aid website on www.troy.edu now features a financial-aid focused version of our TrojanBot chat bot, which provides visitors with helpful answers to common financial aid questions in addition to links that are important to completing the financial aid application process. To access the bot simply visit any Financial Aid webpage and select the "TrojanBot" icon near the bottom of the browser window or device screen.
TrojanBot Enhancements
Our chat system, TrojanBot, which is featured on every page of my.troy.edu, it.troy.edu and select additional websites was recently expanded. IT has added more answers to common questions and additional links to key resources. Students, faculty and staff can quickly access information about resetting one's password, basic Canvas questions, how to obtain technical support and more
New my.troy.edu Content
Over the past semester the Office of Information Technology has collaborated with several departments to build new web presences within our my.troy.edu portal, including:

Expansion of the Internships content continues. Please visit this page for more information: https://my.troy.edu/internships/index.html

Accessibility enhancements are on-going with major improvements already applied since last summer.
Coronavirus (COVID-19) Information Center
This is Troy University's official page for updates and information regarding the COVID-19 pandemic, including safety guidance, protocols and the latest University announcements.


Multi-Factor Authentication Enabled for All Student Office 365 Accounts
On July 31st multi-factor (MFA) authentication was enabled for all student Office365 accounts, including email. MFA adds a second layer of security to a user's TROY accounts by requiring two factors to verify identity. These factors include something you know – your username and password, and something you have – a smartphone app or passcode, to authenticate and gain access to an account.


Learn More at my.troy.edu/mfa/
Cleaning Computers and Electronics
Due to COVID-19 and the desire to lessen the spread of the virus, all electronics in shared and public locations should be frequently cleaned and disinfected. IT has provided a guide for how to ensure the cleanliness of devices.


Student Planning/Faculty Self-Service Online Advising and Registration
Student Planning, TROY's online advising and registration system within Self-Service, consists of tools that enable students and their advisors to better plan courses that are needed to complete their academic program, as well as keep track of their degree progress. The system is easy to navigate and uses color-coding to help students plan, schedule, and register for current and future terms and/or semesters. Training and tutorial information for students can be found by going to my.troy.edu/records and clicking on "Student Planning," and information for advisors can be found by going to the Faculty One-Stop page, which is found at my.troy.edu/records, clicking on "Faculty Resources," and then "Training and Development."
---
MY Portal (my.troy.edu)
The my.troy.edu portal is your gateway to essential Troy University resources. The homepage features quick access to services including Canvas, Self-Service, email and more. Within the site you can use the search to quickly find information and important forms. The MY portal was built on your feedback and we encourage you to continue sharing your thoughts and ideas for the future of this tool. If you have an idea that you'd like to share, or a problem that you would like to report, please use the Website Feedback form link found in the footer of every page or send an e-mail to web@troy.edu.
---
Remote Productivity Tools
IT created a single point of reference to assist students, faculty and staff with identifying and learning more about resources that are key to participating in online courses or working at a distance. The Remote Productivity Tools page offers direct links to a number of online resources and related training and support resources. The page will continue to be updated with new information.

Please visit https://it.troy.edu/remote to access this resource.
---
Troy University Mobile App (iOS and Android)
The official mobile app of TROY provides users with access to information tailored to their affiliation with the university. For example, after installing the app users can set their role as "Students," "Faculty & Staff," "Prospective Students," or "Alumni." Each role delivers links and resources that are specific to each group.

Via the app, students can easily access Canvas, view Troy Campus bus routes and events. Faculty and staff have access to similar resources, which include Web Express, Self Service and the faculty and staff directory.

For more information, and to download the app, which is available for Android and iOS, visit it.troy.edu/mobile.
---
Emergency Notification System - Learn how to receive emergency notifications
The SOS alert system is used to send text messages and email notifications about safety issues that impact our locations.

All faculty, staff and students have an SOS account assigned to them. Safety notifications will be sent to your Troy University email address by default. However, you can log into your SOS account using your TrojanPass credentials at sos.troy.edu. There, you can provide an alternate email address and phone number to receive alerts.

You may also view safety/weather notifications and system outages at sos.troy.edu and most alerts are also posted via our TROYUSOS Twitter account. The status of online services, such as Canvas and E-mail, are posted to the website and to our Twitter account.

See suspicious activity? Visit our TrojanTip Page to learn how to report it quickly and easily.
---
Welcome to New Faculty & Staff from the Office of Development
On behalf of the Office of Development, welcome to Troy University! We are proud to have you join our esteemed faculty and staff this year. The faculty and staff campaign will kick-off in October this year. Please watch for an email with the kickoff location nearest you! Drop by one of these locations and talk with one of our development staff members and consider giving to support the college or area you wish to support! Whether you choose payroll deduction or a one-time gift, your donation shows students, alumni and friends that Troy University is an institution worthy of support.

Please remember, participation is key in the Faculty and Staff Annual Giving Campaign. Your donation helps show others that Troy University employees are united and stand behind their students and college.

Office of Development
301 Adams Administration Building
Phone #(334) 670-3608 or (334) 670-5843
---
Computer Notifications
Computer Notifications, or "Toast", on Windows systems, is a small message that shows up in a box at the bottom right of the screen and disappears on its own after few seconds. The notification, created by Information Technology, informs the users about relevant information and timely events that they should read and take action upon if noted.



---
Student Involvement
Welcome Week continues through Friday, August 21st. New students as well as returning students are encouraged to attend these fun-filled events. Check out our webpage to see the schedule and follow @TroyUniversityWelcomeWeek on Instagram and use the hashtags #WELCOMEHOME and #HOMESWEETTROY to be featured on our page.
Students, have you subscribed to the Student Event Calendar? The calendar hosts student organization events so you can always know what is happening on campus and get involved! Check out the calendar and subscribe! Organizations, be sure to submit your events to be added to the calendar.
Freshmen, are you ready to get involved? Freshman Forum is currently accepting applications until Friday, August 14th at 5:00 pm. Learn more and apply to participate in Freshman Forum! Why Apply? Freshman Forum provides a great opportunity to enhance your leadership skills, meet new people, network, have fun, and show your TROJAN PRIDE!
WE WANT YOU TO JOIN A CAMPUS CLUB OR ORGANIZATION this semester. During Welcome Week and for the first month of school, student organizations will be recruiting new members. We have a variety of organizations including special interest groups, service groups, religious groups, and Greek organizations. Upperclassmen, be certain to join organizations associated with your major. For a complete list of clubs and organizations, visit our website.
Student Organization presidents, our annual Presidents' Meeting will be held in September. More information will be provided soon. If you were recently elected as president of an organization and have not provided the Student Involvement Office with your contact information, please email Traci Leverett, Coordinator of Student Involvement, at tleverett@troy.edu with your name, email address, and phone number.
Interested in Greek Life? Information about joining an NPHC fraternity or sorority will be provided during NPHC Convocation. Sign up now for NPHC Convocation, which is being held on Sunday, August 30th at 5:00 pm. Once you register, you will be provided with the virtual meeting link. IFC Fraternity recruitment begins August 24th at 6:00 pm. Sign up for IFC here.
Be sure to follow the Student Involvement Office on Facebook and Instagram: @troystudentlead and @troysga.
Your health and safety are very important to us so please wear a mask and practice social distancing at all events and meetings!
---
Faculty & Staff Training Opportunities
The Online Training Portal is available for all staff and faculty at Troy University!  Please visit https://troy.knowledgecity.com/ to log in and being learning.  Explore the Course Library to view the available courses.  You can choose from Business, Computer, and Safety Courses.  There are also Training Courses specific to Troy University. Within the courses you can select specific items as you learn a new feature or just brushing up on what you already know!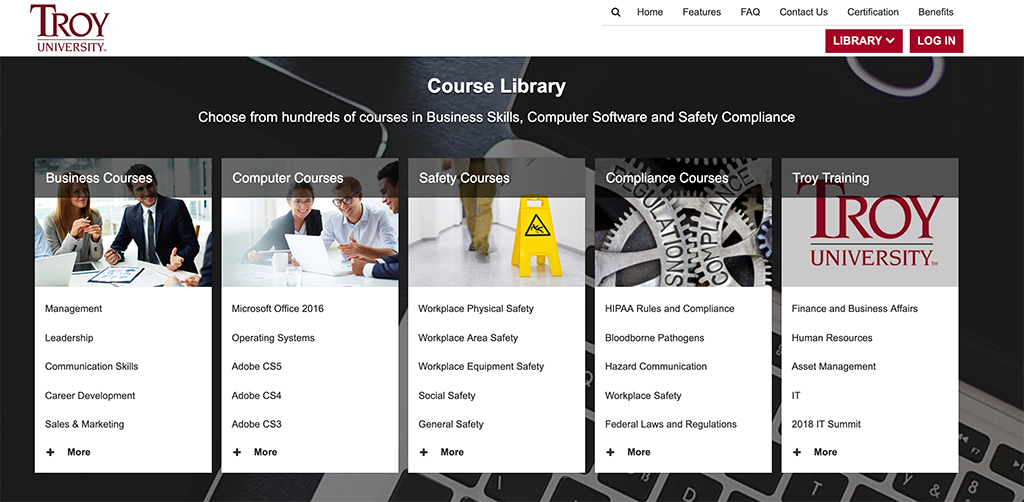 ---
Antivirus Protection for TROY Computers
TROY computers use McAfee Antivirus Protection for the primary end point protection for computer viruses, malware, ransomware and other cyber threats. Residential students at the Troy Campus are permitted to download and install a copy of McAfee VirusScan for use on their personal computers. For more information please go to the software page for for details.

McAfee antivirus software should be installed on all TROY owned computers. In addition, Cylance Protect should be installed on TROY computers for users who access sensitive data and personal identifiable information on students, faculty, and staff. Cylance Protect leverages artificial intelligence to detect and prevent malware from executing on your endpoints in real time.
---
How do I securely access University systems?
Faculty and staff use the VPN (Virtual Private Network) to connect to secure on-line resources such as Datatel and secure shares. We have discontinued the Cisco VPN. The Forticlient is the new VPN client. The Forticlient has been remotely installed on most devices who need this access. If you have been approved for access to secure online resources, and do not have the Forticlient app installed on your device, please review our Multi-Factor Authentication (MFA) for VPN page and submit a Helpdesk ticket.
---
TROY Online
TROY Online would like to welcome online students to a new academic year. We are excited about the opportunity to serve you! Please find below a number of helpful resources to support you as you take courses within the online learning environment this term.
What is an ASA? An ASA, or Academic Services Associate, can be found in each online course. Students can ask student service type questions within the "Ask the Associate" forum located in the Discussion area of each online course. ASAs can assist with online forms, registration, graduation applications, Canvas navigation, and much more. Make sure you let an ASA know how they can help you this term.
First time online student? Getting Started with Canvas is an online orientation course designed to help students learn the Canvas Learning Management System (LMS) and get a feel for how online courses are setup. You can work through each module to learn how to become a successful online learner. This optional, self-paced orientation course provides a wealth of information for new students.
What resources are available to online students? The Student Resources webpage is a great place for online students to find helpful information and services available. The Student Guide provides systematic instructions for accessing the various technology available to students in the online learning environment.
Have a proctored exam? Students can find proctoring information by visiting the Testing Services webpage. an overview of the proctoring process and instructions to assist students with proctoring options.
Need career information? TROY Online Career Services can assist students with the development of a resume to communicate skills more efficiently, virtual mock interviews, learning to network, and access to hundreds of jobs posted daily. TROY Online Career Services is available to support students up to three years post-graduation. Contact troyonlinecareer@troy.edu to get started.
---
Educational Technology/Canvas Update
As the fall comes to an end and we prepare together for the upcoming academic year, we wish to take this opportunity to welcome you back to TROY. The start of the year is always an exciting time. We are looking forward to a rewarding semester ahead, and wish to take this opportunity to share with you some updates to the Canvas Learning Management system.
Having trouble logging into Canvas? (Instructors & Students) You can gain access to your Canvas account by visiting my.troy.edu and logging in. On this page you will simply select Canvas from the services menu at the top or by clicking on the designated tile on the MyTroy homepage. Canvas can also be accessed by logging into canvas.troy.edu.
First Time Canvas User? (Student) All new TROY students are enrolled in the Getting Started with Canvas course. Not a new student? Need a refresher? Click here to access the Getting Started with Canvas Course. By exploring this informational, self-paced, non-credit course, you will gain a better understanding of what to expect with a Canvas course, how to prepare yourself to succeed with a Canvas course, where to go for help with a Canvas course, and what resources are available for you.
Canvas Student Mobile AppThe Canvas Student app is the mobile version of Canvas that helps students stay current with their courses anywhere. This app provides quick access to announcements, assignments and discussions. Download the Canvas Student app on Android and iOS devices.
Canvas Teacher Mobile App The Canvas Teacher app allows teachers to facilitate their courses on the go, both inside and outside the classroom. This app provides quick access to grading, communicating, and updating—three of the most frequent course facilitation tasks for teachers through announcements, assignments and discussions. Download the Canvas Teacher app on Android and iOS devices.
Instructor Publishing Improvements (Instructors)- The Dashboard, Courses menu, and All Courses pages will be displaying both published and unpublished courses. From the Dashboard, there will be two sections display: a published courses section and an unpublished courses section. Unpublished courses display at the bottom of the Dashboard. Instructors can publish courses directly from the Dashboard without having to open the course.
This is an exciting time at our University, and we are incredibly grateful to each of you for your contributions and extraordinary commitment to our students. For additional information and/or assistance with any Canvas features, please feel free to contact us at helpdesk.troy.edu, selecting Submit Helpdesk Ticket>>Teaching & Learning>> Learning Management Systems>> Canvas for Faculty/Staff. We look forward to hearing from you!
---
John W. Schmidt Center for Student Success
The John W. Schmidt Center for Student Success at Troy University is located in Eldridge Hall (between Shackelford Hall and the football stadium). Our goal is for you to visit us. Whether you need to use a computer or a printer, you want to apply for reasonable accommodations under the guidelines of the Americans with Disabilities Act (ADA), or if you just need a place to relax between classes, the JWS Center is here to serve you. In addition to the services listed above, we also provide free tutoring in the Academic Learning Center where you can receive tutoring in math, science, and writing. We have the federally funded TRIO Program, Student Support Services, which seeks to help each eligible student earn his or her degree, as well as the McNair Scholars, for those qualifying students who wish to pursue graduate education. The Office of Civic Engagement allows you to sign up to volunteer to make our community a better place to live, learn, and work. Our Office of Career Services can assist you with resume building, major exploration, and can offer unparalleled career advice. If you would like to earn credit by examination (CLEP/DANTES) or take the math or English placement test, our Testing Coordinator can assist in that process. Remember, though, if you simply want a place on campus to unwind between or after classes, we always have a puzzle in the hallway that you can stop by to find a home for that lost jigsaw piece. Eldridge Hall is open for all students on campus; we are here to support you in your academic pursuits!
In Fall 2019, the academic advisors in the JWS Center for Student Success began advising all incoming freshmen. We also advise students who are conditionally admitted, undecided about their major, taking a developmental math or English class, and those who are enrolled in the Bachelor of Science in Interdisciplinary Studies or Associate Degree program. To identify your advisor, login to Student Self-Service on my.troy.edu click "Student Planning," click "Plan and Schedule," and then click on the advising tab.
The JWS Center for Student Success, in its most simple terms, advocates for the success of all students at Troy University. Another new feature of the JWS Center is our Parent/Student Newsletter that will be sent out once every other month. Subscribe to this newsletter to stay up-to-date with the latest from the John W. Schmidt Center for Student Success. This newsletter will highlight various service units within the JWS Center. We also have several social media accounts that we would like for you to utilize. For more information, contact us by social media, email, telephone, or feel free to stop by Eldridge Hall.
---
Helpdesk (TeamDynamix)
The Troy University helpdesk aids students, faculty, and staff with a wide variety of issues they may encounter while attending or working at Troy University. Over 25 departments offer support through the helpdesk, including: Information Technology, Admissions, Student Financial Services, Financial Aid, Records, Housing, University Police, Canvas, Instructional Design, Human Resources, Marketing, Event Management, and several others.
Included in the helpdesk is a knowledge base that offers a library of information about Troy University. Anytime you have a question or a problem and cannot find an answer, try searching the knowledge base. The knowledge base contains articles relating to all departments that offer support through the helpdesk and more.
Easily find the services that you need using the helpdesk search feature. The helpdesk's search feature will allow you to perform a "Google" like search of the helpdesk to find exactly what you need. If you need to submit a helpdesk ticket and you are not sure where to locate the service, enter a few keywords describing what you need and select Service Catalog. This will return a list of the services specific to search and will allow you to submit tickets from this page. If you are looking for an answer to a question or instructions, select Knowledge Base and hopefully avoid a ticket.
IT has rolled out a Ticket Volume Indicator that measures ticket volume broken down by division. If the indicator is green, the volume of tickets for the division is at average status and will have the standard response time. If it is yellow, the volume of tickets for the division is reaching a point where response time may be briefly delayed. If the indicator is red, the volume of tickets for this division is high, and response time may take longer than usual. This volume indicator is located on the client portal homepage of the helpdesk.
If you receive an update on a helpdesk ticket and you don't have time to log into the helpdesk to update your ticket, remember you can always reply to the email notification you receive and your ticket will be updated with your response and everyone included in the notification you received will be notified of your response.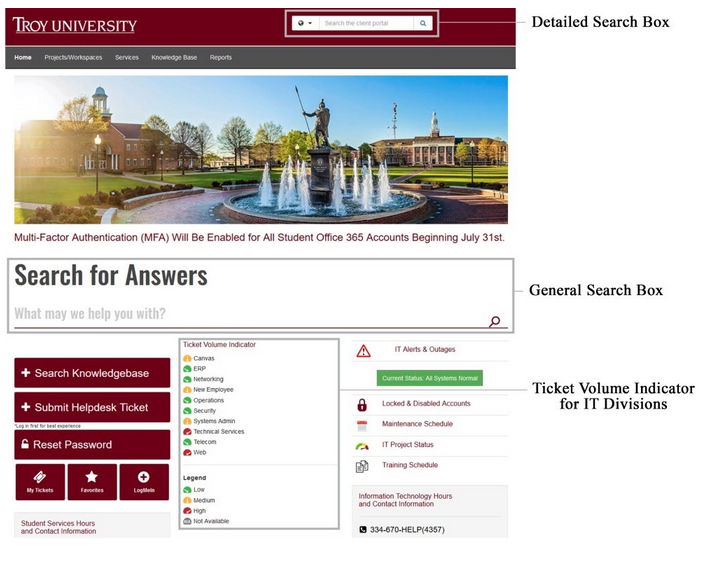 ---
Electronic Forms Through Adobe Sign
Many departments have requested previously manual paper forms be converted to an electronic process due to the Covid-19 crisis. Since March, over 25 electronic forms have been deployed through Adobe Sign. Because of the number of new electronic forms, we recommend that if you need to send a form, check employee forms or student forms for the most up-to-date version of a form.

---
Removal of Local Admin
Did you know that TROY IT offers many commonly used applications for download on Windows 10 via Microsoft Software Center? These applications are available to Faculty and Staff, just click "Start" and type "Software Center" into the search. These applications do not require administrator credentials to install.
For more information about approved software visit the Software Support service.
If you find that the software you need is not listed in the Software Center, you will need to request temporary Administrative Rights Access.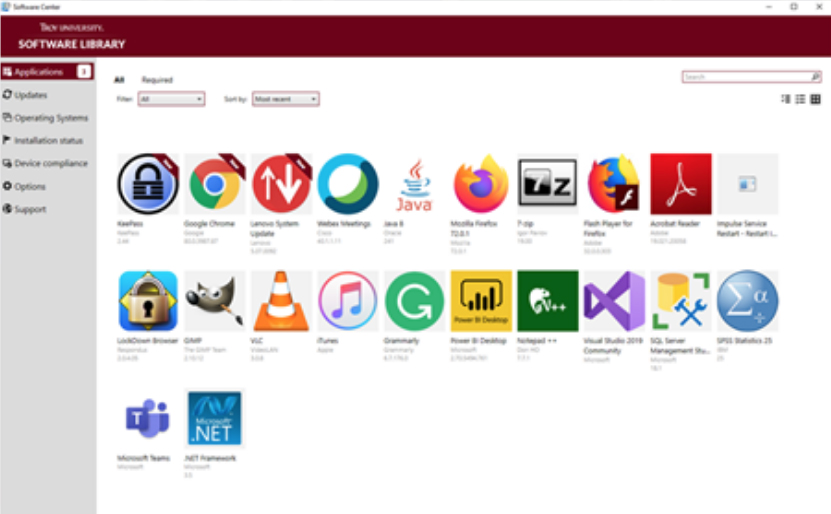 ---
Microsoft Teams now available on all instructor station PCs
During Summer 2020, TROY IT deployed Microsoft Teams to all classroom and lab Instructor Station computers. A few minutes after logging into one of these computers, a Microsoft Teams shortcut will be created on the desktop along with a pop-up to sign into Teams using your TrojanPass credentials.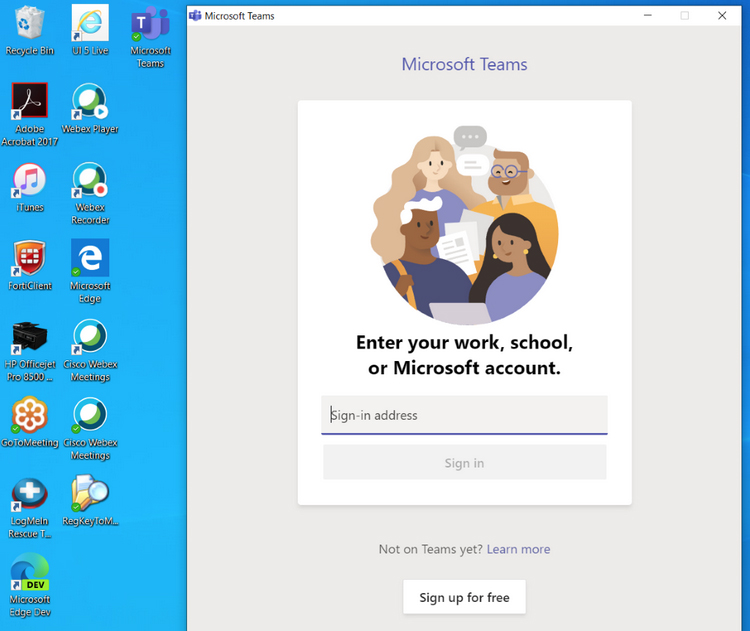 Create a Team consisting of your class or colleagues and then quickly start or schedule a meeting by using the "Meet" feature in the top right-hand corner of Microsoft Teams.
Once you send your online meeting invite, open your meeting options via the new button in Teams. Next, open the event and select Meeting options (at the top of the event). This will open a tab in your web browser where you can tweak your meeting settings, like lobby bypass and who can present.
Team sizes have increased to ten thousand, making it a little easier for larger organizations to let everyone join the conversation.
To increase privacy for participants joining a Teams meeting by dialing in via phone, Teams now obscures your number from any participants that are outside your organization. Your number will still show for teammates in your org.
More room for everyone, get a large group chat going with up to 250 participants.
Your most recent conversations, as well as your pinned chats and channels, are now available when working offline in Teams.
 
---
Third-Party Application Patching to Remote Devices
TROY IT is now patching third-party applications, such as Google Chrome and Mozilla Firefox, on University Microsoft Windows remote devices connecting over TrojanNet VPN. Simply leave your University Windows device connected to TrojanNet VPN for a few hours every day or evening, no other action is needed on your part. Please note that your device's connection to your home network needs to be set to "Private" not "Public".
---
Microsoft Office 2019
TROY IT has deployed Microsoft Office 2019 to all university-owned Windows PCs residing on a university network.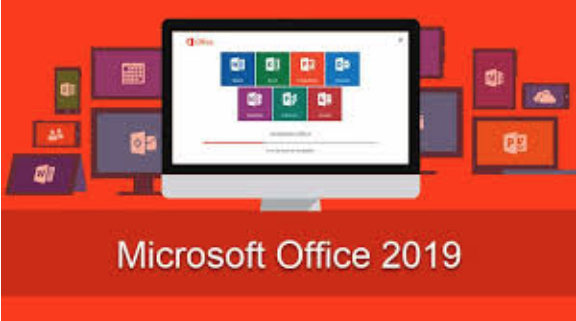 ---
LAPS
TROY IT has deployed Microsoft Local Administrator Password Solution (LAPS) to all university-owned Windows PCs which reside on a Troy University network. A LAPS-enabled PC will periodically randomize its administrator password, which is then stored centrally on TROY IT servers. Now, if one computer's administrative credentials are compromised, those credentials cannot be used to gain elevated privileges on another computer. A secondary benefit is that these credentials can be given to staff or faculty with a short-term need for privilege escalation and then be set so that the password randomizes again in a few hours.
If you need immediate assistance regarding temporary administrative rights to install software you may reach out to our IT Operators. The contact information is below.

334-670-HELP (4357)
Hours of Operation (Central Time)
Monday - Friday, 7:00 a.m. - 9:00 p.m.
Saturday, 10:00 a.m. - 3:00 p.m.
Sunday,1:00 p.m. - 6:00 p.m.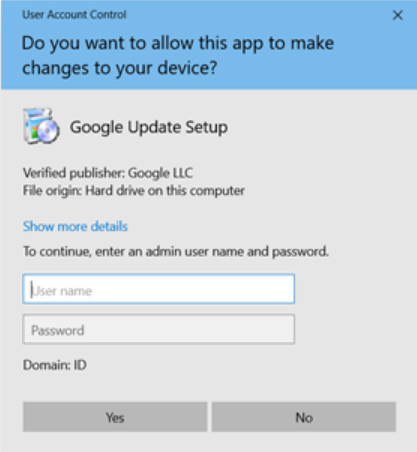 ---
Managing Email Campaigns (Salesforce)
Salesforce Email is available for faculty and staff use. Salesforce has an email service that should be utilized when sending out mass emails to external email addresses. These emails are sent from a troyuemail.com email address and are compliant with current FTC regulations. If your department sends out emails that need to be sent to external email addresses, please submit a helpdesk ticket to have an account set up.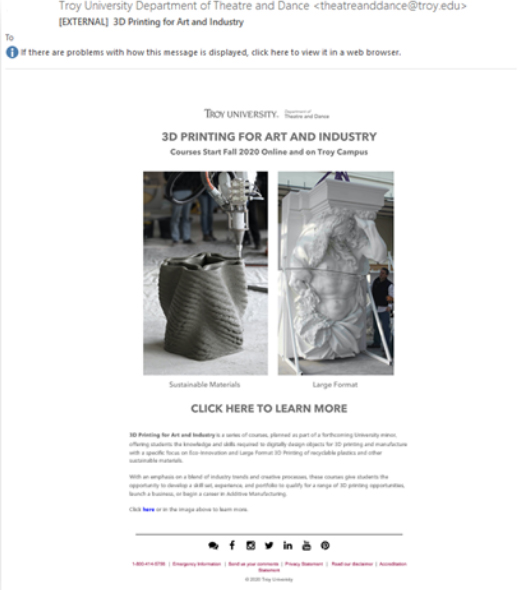 ---
TrojanTXT
TrojanTXT is an SMS communication service that will swiftly notify students of Student Services topics and deadlines such as: registration dates, financial aid deadlines, drop/add dates, and billing. Sign up to receive TrojanTXT messages
---
Laptop Loss and Recovery Software
Students can protect their laptops with FrontDoorSoftware Laptop Loss & Recovery. Installation includes laptop registration, a talk feature, and 4 years of software tracking service, as long as you have and are using your @troy.edu email address. Protect your laptop, information, music, emails, and pictures for free.
 

Visit https://frontdoorsoftware.com/troy/ to download FrontDoorSoftware for your laptop.

For support you will need to contact FrontDoor: 
303-670-8800
techsupport@frontdoorsoftware.com

Additional student software may be found on the Student Software page on our website

---
Campus Innovation Lab - Launch Your Mind (LYMLab)
The LYMLab is housed on the 3rd floor of Wallace Hall and consists of nearly 800 square feet of space, with more than 5 collaboration stations, most with projection capability and whiteboard walls.
 

Visit this link to learn more.

Students may find a list of labs for each location on our Computer Labs page

---
VISIX Digital Displays
Digital displays are used to present important information to students, faculty and staff, including current events, weather and important notices. Currently there is a combined total of 70 Visix Digital Displays on Troy University campuses.
 

Visix serves as a signage suite for the University. Through utilizing the Visix system, students and employees can view announcements that consists of scheduling information, alerts, notices, policies, live weather updates, live news, and other relevant content.
---
Technology Training Offerings
Training is provided to all TROY faculty and staff through the IT Department. At this time, courses are held online only via WebEx and Microsoft Teams. They cover commonly used software, systems, professional development and monthly Canvas updates. Keep a watch on the monthly training emails to see what training is upcoming. You can also view training offered by IT at the site below.
https://it.troy.edu/services-support/training/index.html
The IT Summit, held annually for Faculty and Staff, was conducted July 20-31 virtually via Microsoft Stream. The IT Summit Stream can be accessed at https://web.microsoftstream.com/channel/e995abd7-76f1-4e75-a6b3-b2b8ad3d772a
Topics included:
Computer Health Check & Teaching in a Flexible Environment 
 
Need Help? 
 
Microsoft Teams
 
Advanced Microsoft Teams
            
Webex
     
Providing Excellent Customer Service  
 
Using and developing Electronic Forms 
   
Microsoft Stream 
 
Sending Mass Communications through Sales Force  
 
Microsoft Teams Integration in Canvas (added to MS Team session)  
 
Organizing your Canvas Course using the TROY Template
   
Monitoring Online Assessments using Respondus Lockdown Browser or Monitor 
  
MSO365
    
CRM Advise  
 
CRM Recruit
  
TROY Mobile App 
 
Additional online training resources have been made available at https://it.troy.edu/online/ with links to on-demand training materials, a schedule of live sessions, along with a link to the KnowledgeCity training portal.  

---
Data Encryption Project (MBAM)
Information Technology continues to implement Microsoft BitLocker Administration and Monitoring (MBAM) on all faculty and staff computers. MBAM service provides a simplified administrative interface for managing and monitoring BitLocker Drive Encryption on Windows systems. BitLocker offers enhanced protection against data theft and data exposure for Windows systems that are lost or stolen. BitLocker encrypts all data that is stored on a Windows system. IT is continually striving to keep your data protected.
---
Install Approved Software
Did you know that TROY IT offers many commonly used applications for download on Windows 10 via Microsoft Software Center? These applications are available to Faculty and Staff, just click "Start" and type "Software Center" into the search. These applications do not require administrator credentials to install.

For more information about approved software visit the Software Support service.

If you find that the software you need is not listed in the Sofware Center, you will need to request temporary Administrative Rights Access.
---
Welcome from the Office of Enrollment Management Montgomery Campus
On behalf of the Office of Enrollment Management, Montgomery Campus, we are so excited for you and this next season of life, and look forward to you joining us at TROY! As a member of the Trojan Family, we encourage you to get involved on campus as a TROY student, and invite friends and family to start or complete their degree with us at TROY!
---
Request Help with IT Services
For assistance, submit a Online HelpDesk Request form or call 1-334-670-HELP (4357)

Hours of Operation (Central Time)
Monday - Friday, 7:00 a.m. - 9:00 p.m. 
Saturday, 10:00 a.m. - 3:00 p.m. 
Sunday, 1:00 p.m. - 6:00 p.m. 

How do I reset my password? (TrojanPass)
Users can change or reset their own TrojanPass passwords for email, Self-Service and other services. Security questions, text PINs sent to the user's mobile phone using SMS or via alternate email can be utilized. To learn more about TrojanPass please visit https://reset.troy.edu.
Microsoft Office 365
Microsoft Office 365 is Troy University's official email and is provided to all registered students of Troy University. Your O365 account includes your University email account along with the online version of the Microsoft Office Suite. Users also have the option to install the Microsoft Office Suite, including Word, Excel, PowerPoint, and Outlook, on up to 5 of your personal devices. You may access your account and the online version of Microsoft Office at https://login.microsoftonline.com.
---
How do I encrypt my e-mail?
We provide all users with the ability to send encrypted email messages through your Troy University email account. When composing an email, type #Encrypt# into the subject line before you type the subject of the email. Microsoft will recognize the encryption tag and automatically apply the encryption.




To view an encrypted message, sign in with your Troy University 365 account or use a one-time passcode




---
Self Service Financial Aid
Troy University Financial Aid self-service features several tabs and web forms that guide students, step-by-step, through the process for applying for and accepting the financial aid they need in order to achieve their academic goals. Additionally, counselors will see the same information the students see so they can provide relevant, timely support. This service will be a mobile-friendly way to apply for and accept financial aid with a dashboard-like view of the student's status accessible by students, counselors, and financial aid administrators alike.

Self-Service Financial Aid displays a financial aid checklist that specifies all the steps and their proper sequence that students need to pursue financial aid in a particular year, including:

Receipt of the FAFSA
Any outstanding documents required
Actions the student needs to take to proceed through the awarding process
The review status of the application at the financial aid office
Ability to accept/decline awards
Ability to review, electronically sign, and print your award letter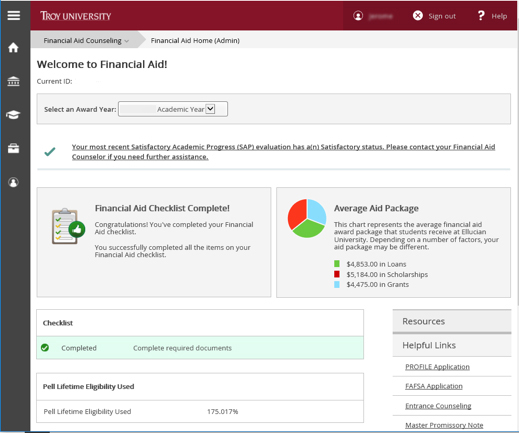 ---
Follow the latest TROY news on the official blog
Follow TROY's official blog, TROY.Today, to keep up with the latest news about students, faculty, staff, alumni and more.
---
Pay for your parking permits and parking tickets online!
All parking permits for faculty, staff, students and visitors may now be purchased online. In addition, parking ticket details are available for review and tickets can also be paid. Please visit our Parking Permit and Ticket page to learn more about accessing these systems, purchasing permits, paying tickets, filing appeals or reviewing current traffic and parking regulations.
---
What is FERPA?
The purpose of the Family Educational Rights and Privacy Act, also known as the Buckley Amendment, is to provide students certain rights with respect to their student records. This Act also protects the student's privacy from the indiscriminate collection, maintenance, disclosure and release of personally identifiable student information, including information regarding student status or performance.

More information is available on the FERPA page in the Academic Records website.
---
Copyright Information and Best Practices
A compilation of copyright information is available in the IT Website for review. The page includes general guidelines and links for topics such as Fair Use, the Digital Millennium Copyright Act, and the university's Electronic Copyrights Infringements Policy.
---
Accessibility Information
As a reminder, Troy University is committed to ensuring that individuals with disabilities have an equal opportunity to participate in the University's programs and activities offered through the University's website, or equally effective alternate access. A compilation of ADA compliance documents and policies are available at my.troy.edu/accessibility. The page includes policy statements and resource links.
---
Student Consumer Information Disclosure
The Higher Education Opportunity Act of 2008 requires that universities make available to current and prospective students important information concerning each institutionês academic programs, retention rates, graduation rates, crime reports, financial aid procedures and more in an effort to ensure fairness and transparency for all higher education consumers. Troy University is committed to providing prospective students, students, their families and the community full disclosure of all consumer information as required by state and federal law.

Visit the Student Consumer Information Disclosure page.
---
Scroll to Top of Current Page